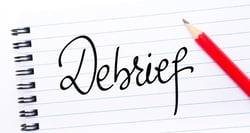 We've been using virtual classroom technologies for close to 20 years now. Unfortunately, we are still holding on to a content model that insists the most important outcome is getting through all of the slides.
This webinar approach to content delivery is perhaps the most ineffective way to get information out to the world. Few of us have the motivation or concentration to focus on 60 minutes of lecture.
And, most importantly, we know that learning only "sticks" after learners have a chance to apply what they've learned and then reflect on the experience.