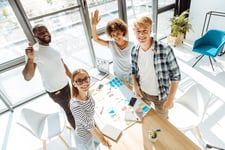 In thinking about leadership and learning in the era of the four-generation workplace, no shortage of frustrations exists. Technology changes, "cool" workspaces, and operational processes are constantly evolving.
Everything feels more complicated, and learning faces the unique challenge of equipping and empowering our colleagues for success in this new environment. It's quite simple to chalk up learner disengagement – especially that of the millennial employee – to a "person" problem.
But what if it's a "perspective" problem?