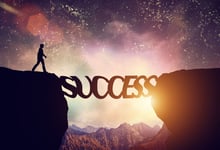 Organizational boundaries keep growing and becoming more fluid, and as our learner base disperses around the globe, training programs have to adapt appropriately. That's no small feat in the face of multi-cultural classrooms, emerging technologies, and stakeholder expectations of learning success.
Multi-method delivery, or the simultaneous support and instruction of non-co-located learners, provides a popular and effective solution in the modern workplace. Organizations managing remote and in-person learners have had success with this approach, as they're able to balance the needs of both groups, while successfully engaging all participants.
Ready to incorporate multi-method delivery into your modern blended learning methodology? Make sure you implement the four factors required for success!