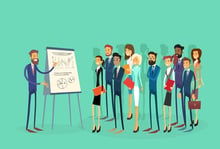 It's a fact that as robotic and AI technology continues to improve, many human jobs will be replaced by machines. There are few areas in business that are safe from such a threat including the sales force.
Person-to-person contact between the sales department and their clients is still a vital business link. But with the coming age of robotic devices that speak and even use logical reasoning, it's important that the types of employee training needed to face this competition be utilized.
Unfortunately, statistics show that companies in general do a fairly poor job of training. The ES Research Group claims that their studies show that only 10 to 15% of the information given out during sales training sessions has a lasting impression beyond 120 days.