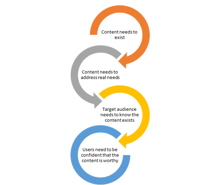 Now more than ever we live in perpetual learning environments. In every waking moment, we are taking in and processing information – learning perpetually.
Learning Experience Architects need to embrace this perpetual learning cycle, and consider it when designing blended learning campaigns. It's easy to influence formal learning that takes place in traditional classroom settings, in virtual classrooms, and via required eLearning. The "Push Training Culture" is something we have mastered.
But how do we influence the "Pull Learning Culture," and encourage learners to utilize content provided by Learning & Development?