T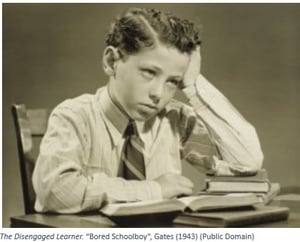 he InSync Training team congratulates Chip Dye, Lead Researcher and Director of Client Relations, on the defense of his dissertation and completion of his PhD program at the University of Connecticut. As part of our 20 Modern Learning Lessons Learned in 20 Years series, Chip highlights the purpose and value of his research into learner engagement.
A casual review of current literature in academic research finds more than 300 scholarly articles and more than 2,000 trade articles in 2019 alone that use the term "learner engagement," but few commentators define learner engagement. It is perhaps the ubiquity of the usage that allows researchers and commentators to continue the practice without a strict definition – it is assumed everyone knows what is meant by the term. Most practitioners in the learning and development industry, be it K-12 public education, post-secondary instruction, or industry professional training, can easily distinguish an "engaged" learner from one that is not engaged, in many cases simply on sight.
Anecdotally, it is easy to "see" when someone is not engaged, but much more difficult to articulate what is meant by "learner engagement." In the industry, learner engagement has developed into a short-hand term that loosely represents an amalgam of learner subject-matter interest/expertise, attitude, motivation, mastery, and self efficacy. Moreover, it is often explicitly or implicitly assumed that an engaged learner will achieve better outcomes against measurable rubrics than one who is not engaged.