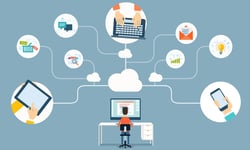 Training Industry Webcast Recap
Adult Learning Principles tell us that adults learn best when they believe information relates to their responsibilities. This theoretical principle serves as an important reminder: if learners don't feel connected to the content, they'll disengage.
In the virtual classroom, all the EdTech bells and whistles in the world will not replace good old-fashioned relevance. Scenario-based learning provides one way to make learning stick, and to combat boredom in live online training.