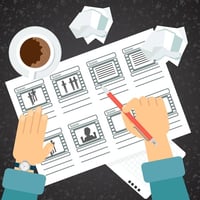 eLearning has been a viable training option for a while now. Thanks to tools like GoAnimate and Camtasia, instructional designers can quickly and easily produce a high-quality learning product. But just because we have access to technical tools, that doesn't automatically result in a seamless creation process.
As expert Jennifer Hofmann points out:
"Instructional design is still relevant to blended learning. It's evolving, and it's mission-critical."
As a helpful component in many blends, we need to thoughtfully plan out our eLearning modules and connect them to defined learning objectives.
But how?