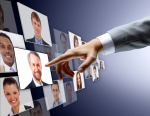 How InSync Training Enables Its Virtual Workforce
If you are a regular follower of this blog, you probably know that our company, InSync Training, specializes in live online training. We work with clients all over the world to develop their live online training content, produce/facilitate their sessions and train their trainers to ensure their trainers are confident and prepared to handle the complete delivery of their synchronous training.
What you might not realize is that InSync Training is 100% virtual, with approximately 50 facilitators, producers, instructional designers, project managers, and other core staff all working remotely from home offices wherever they happen to be in the world. If we happen to be visiting a city where one of our staff lives, we make an effort to meet for a meal. Otherwise, we rarely, if ever, occupy the same spot on the space-time continuum.
And it makes sense. We believe in virtual training. We believe in virtual work.