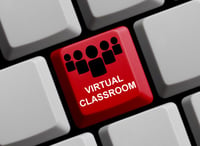 Flipping the classroom marks a big step towards truly modern learning. Organizations, for a variety of reasons, have transitioned face-to-face training content to the virtual classroom. The process, complicated by the very nature of including technology in learning, can become even more difficult without the right instructional support.
In the two decades that InSync has designed, delivered, and supported virtual training, one factor has proven essential for success: the virtual classroom producer.
A hallmark of our approach, we encourage all teams hoping to incorporate live online sessions into the blend to seriously consider investing in this invaluable resource.