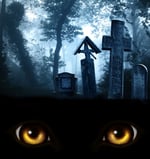 It was a dark and stormy Tuesday, and all across the globe seasoned virtual classroom facilitators faced a malicious monster: a modern classroom meltdown. "What happened?" you inquire.
Well, the things that go bump in the night during training programs seem innocuous enough, but they send shivers down the spines of training practitioners and scare modern learners from engaging in future programs.
Two particularly terrifying tales may have you preparing for your next training session a little more seriously.