This month, guest contributor Jenny Holt explores the helpfulness of technology in supporting both virtual learners and virtual teams.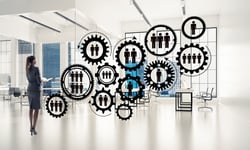 Studies show that conversation between colleagues boosts performance by 20%, but this can be challenging to make the most of when remote teams are increasingly split across the globe.
Training is an area of business where communication is absolutely key - the prevalence of remote and virtual teams places even more responsibility on the virtual trainer to bring teams together regularly and enable meaningful interaction between members. There are various aspects of technology that can be used effectively to make the training experience more streamlined, while also boosting overall team performance in the process.