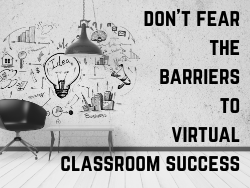 Recently, learners have flocked to the virtual classroom to continue their professional development. Organizations have started embracing the flexibility and dynamism of this learning environment as a viable option for programs ranging from new-hire onboarding to informational webinar-style updates to complex technical trainings.
We believe in the power of the virtual classroom. But, truthfully, despite its varied functionality and useful tools, learners experience a, well, learning curve when learning virtually.
To help learners – both new and experienced – adapt and thrive in the virtual classroom, our team compiled a list of obstacles to look out for and ways to preemptively overcome them.