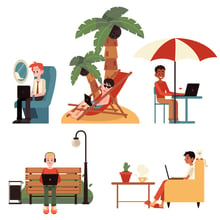 Did you know? InSync has operated an entirely virtual team since 2000. Over the last 20 years, technology platforms like Skype, Dropbox, WebEx, and Outlook have enabled us to communicate, collaborate, and constructively deliver our value proposition to our clients and learners.
In many ways, our organization implemented this employment model before it became commonplace. Today though, more companies include remote teams or allow for telework. Heck, even some federal government jobs here in the US allow team members to work virtually!
The workplace is a-changin' folks. But, the need for clear roles and responsibilities has not changed.