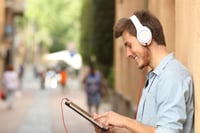 Virtually There Session recap
Have you heard? Modern learners love games. In fact, with the right design, these games have the power to increase learner engagement and boost retention.
Our organizations and stakeholders, though, often struggle to understand the value of games. "Having fun doesn't equal skill building," is a common refrain. How do we prove them wrong if they won't buy in?
Take the first step by walking them through "Serious Games 101." Andrew Hughes, President of Designing Digitally, graciously shared his serious game secrets with our Virtually There learners. This blog details the basics of serious games and game-based learning, allowing you to apply his model to your own corporate L&D.