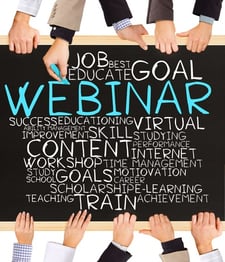 When we introduce a new topic, we often start with a webinar. The ubiquitous technology and common virtual classroom delivery format seems to be an easy way to engage, and teach, a large audience in a short time.
We know the webinar format has its challenges. Generally, potential learners enroll with the best intentions of attending, but understand that a recording will be available if there is a scheduling conflict. Many of us have an email folder containing link after link after link of webinar recordings that we hope to watch one day, when we have the time.
And when learners do attend a live session, they automatically put themselves into a "listen only" mindset; intending to multitask their way through the session with the hope that they will pick up the important points. They don't have an expectation that they need to participate to absorb the content.