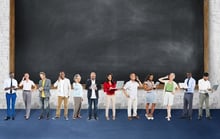 Training Magazine Network Session Recap
Training Magazine Network kindly invited me to present Creating the Mobile Virtual Classroom for their audience on June 23, 2015. The event was a huge success - attendance was high and interactivity was off the charts thanks to the wonderful promotion by Training Magazine Network. We had many of our "regular" InSync BYTE attendees participate as well which is always great.
With so many great questions posed during the live event, I wanted to take the opportunity to recap key discussions and provide additional resources concerning the mobile virtual classroom.
When to use Mobile
One participant asked, "So, what is mobile best used for?"
To this great question I responded:
"The location you choose to deploy your learning, like face-to-face, desktop learning, mobile device, needs to be authentic. Think about where people will be using the skill you're trying to teach. People use mobile devices when they're on the road or mobile. So think about what skills they need to know when they are on the road, and what skills they need to learn live. For example, if you think about a warehouse supervisor doing inventory, they're probably going to be doing inventory on some kind of tablet. So create content on the tablet, and that's the way you should teach. Design for it to be deployed on that tablet and maximize that tablet's capabilities. Now if somebody decides to join on a laptop or desktop, that's fine. But it's maximized for the environment in which they are teaching. Be authentic. That's the key."
Mobile Learning Attendance Verification
Another participant asked, "How do you verify that complianced-based learning is actually attended on a mobile device?"
My advice here was:
"The virtual classrooms have different ways of reporting. In any type of virtual classroom, we verify that people have logged in and stayed logged in. But we can't necessarily verify that they listened unless it's very interactive. If your virtual classroom tracks polls and things like that, you have a form of measurement. For example, WebEx keeps track of polls, so you could know if someone answered a poll every five minutes. If the class is small enough, we can take screenshots of the attendance list."
In addition, other session attendees shared their wisdom concerning mobile learner attendance verification. Their feedback included:
"Adobe Connect generates attendance reports."

"LiveMeeting also has a log of who attended."

"Compliance training often has a final assessment to determine who has participated (successfully)."

"I was also going to say that you should assess the learning after the training. That will be the true test of whether the individual paid attention while learning via mobile device."
Maintaining Learning Focus in the Mobile Virtual Classroom
Another participant asked the important question, "How do you keep focus when folks use mobile devices? For example, driving, at a coffee shop, etc?"
I replied:
"I'm never going to suggest they use mobile devices while driving. But at a coffee shop or at an airport – first of all, mobile virtual classes should be short, I say, 20 minutes. You're trying to teach a very short piece of content and then give them an action item where they can go and practice on their own and come back, for example. Keep it interactive. If it's just a 15 minute lecture with slides, consider making that eLearning and that can easily be deployed on a mobile device. If you're going to bother bringing people together, make it very, very relevant and make it very real. Give them chances to interact. Have them use their cameras, or have them answer questions. If you want it to be real training, I suggest you keep the class sizes small."
Proprietary Content in the Mobile Virtual Classroom
A session participant questioned, "Are procedures appropriate for mobile devices? If so, where should secure procedures reside?"
My response:
"This comes down to not what mobile devices can do, but what's appropriate for a mobile device. If it's secure information, think about the virtual classroom in general. If the virtual classroom is not behind a firewall, it's probably not following security protocols. WebEx is rarely behind a firewall. Adobe Connect is usually hosted by somebody else. Virtual classrooms in general involve putting content behind firewalls. If it's on a mobile device and it's eLearning, often you can access behind your firewall in an eLearning environment. You can log-in to something to get content that might be more appropriate. If your virtual classroom is not hosted behind a firewall, it's probably not secure in the first place. So check with your security folks about what's appropriate or not."
Additional Resources
Creating the mobile virtual classroom is one of my passions and a favorite topic of mine to teach. InSync Training offers an entire suite of free resources on this topic.
The whitepaper, The Mobile Virtual Classroom, will help you explore what designers, facilitators, and managers need to know to be successful in the mobile virtual classroom.
The article, Virtually There: Creating the Mobile Virtual Classroom, focuses on the differences in the mobile interface and the engagement techniques used to create interaction and collaboration on the mobile device.
You can also access the full Training Magazine Network presentation recording of Creating the Mobile Virtual Classroom to hear all of my recommendations and tips for creating the mobile virtual classroom.