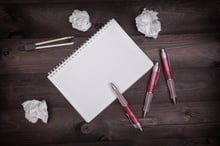 BYTE Session Recap

Becoming a more effective learning professional requires a number of skills, none more important than clear communication.

Christine Miles, Co-Founder and Chief Architect of CI², spent years developing a framework that helps people communicate more powerfully. On January 17, Christine generously shared how storytelling provides the foundation of her proven approach with BYTE session attendees.

Read more to learn about the importance of story, why story works, and the elements needed to tell a good story. To review all of Christine's helpful communication skill-building advice, click on the title to access her BYTE session recording, Mastering Storytelling for the Business Conversation.

What Is Story?

Before you can improve your communication through storytelling, you need to understand what a story is. Christine defined story as, "a series of events linked together to make a point."

To tell stories that make the correct point, we have to tell the right type of story at the most relevant time. Christine identified the following story types:
Vision & Strategy Stories: "When you paint the picture of what your company will be in the future."
Company Stories: "Who your founder is and what they went through to make the company successful today. The beginning to now and what your company believes."
Product Stories: "What your company's products and services mean to customers and to the market."
Best Failure: "Helps people understand what you've been through to get where you are today. Helps them fast track so they don't have to go through the same failure to have the success."
Customer Hero and Employee Hero Stories: "Stories that do the selling for us. The customer we've helped with our products and services, their success and business results move them to become the salesperson to our prospects."
Paint the Picture Stories: "A story that makes a point and clarifies, but may not have obvious business relevance."
My Why Stories: "The story that shares the reason and purpose you come to work every day. It's the most powerful story we have available to us."
Why Does Story Work?
When used properly, short stories (3-5 minutes long) can deeply impact your business success. But why? Psychologists have the explanation.
Science shows that everyone experiences bias, or the subconscious reaction to events. Bias includes three things: events, feelings, and actions. Christine elaborates, "an event happens, we have feelings about it, and that inspires action."
Past experiences define present actions. At the heart of bias lies story: we tell ourselves a story subconsciously, and that creates our bias, ultimately driving our behavior.
If we can tell the right story, though, we can overcome the bias of our audience. In business, we are asking our audience to buy-in to our product or service, fundamentally asking them to change their current behavior.
It's notoriously difficult to encourage change, as fear keeps us from moving away from the known towards the unknown. Christine extrapolated, "if we make the right point by telling the right story, we change the bias and help inspire change."
How Do You Build a Good Story?
Some people possess natural narrative abilities. Luckily for everyone else, Christine assures us everyone can build their storytelling skills.
In addition to practice and repetition, Christine encouraged us to include four key elements in any story to make it more powerful:
Beginning: This element "sets the background and the scene, defines the characters and the timeframe."
Struggle: Shares "the trouble, stress, and difficulties. This is when people step-in and begin to relate to the story you're telling."
Tipping Point: The shortest piece of every story identifies "the critical event or moment; the reason we need to make a change."
New Beginning: Explains "the outcomes and results. It answers the question, 'What is the point of the story?'"
The recording of Christine's BYTE session provides additional direction on improving your storytelling approach, details about the "Art of the Nudge" communication framework, and more. Access the recording here.
Additional Resources:
Blog: Find Your Why. Tell Your Story. Get Results
Ahead of her BYTE session, Christine authored a powerful blog post defining the importance of the "My Why" story type. It's a great continuation of the conversation started during the live learning event.
Infographic: How to Build Your Why Story
In four easy steps, you can build your My Why story and begin using it during professional conversations. This infographic, cobranded by InSync Training and Christine Miles, helps you follow a proven path to My Why story success.
Don't miss our next live learning event. Click the icon below to see what's coming up in the InSync webinar series, and to register for free.