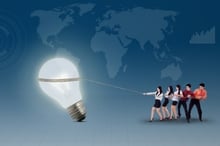 Training Magazine Network Session Recap
Several months ago, Jennifer Hofmann's presentation "How to Engage Modern Learners," explored the differences between Push training and Pull learning. Traditional training focuses on the Push – formal scheduled programs that provide planned, siloed instruction. Pull learning, on the other hand, uses a decentralized, learner-centric approach to make content readily available in a specific moment of learning need. Both Push and Pull play key roles in the modern learning culture.
Training Magazine Network's audience found this learning event so helpful, they invited Jennifer back to present "Pulling Learners to Your Content: How to Make it Work" on June 8. In this follow-up session, Jennifer discussed learner engagement in modern workplace learning, the five moments of need learners experience, and moving Pull learning from theory to practice.
This blog post shares a step-by-step approach you can use for creating microlearning Push activities, as well as an example of how to do so. To review all of the information covered in the June 8th session, access the full recording here.
Background Information
When using microlearning as a Pull activity, it can be considered performance support. Jennifer extrapolated, "In this context, a specific task requires a learner to find out how to do something." As learning architects, we can anticipate this need and provide a resource to guide our learners through the task.
Take it Step-by-Step
Jennifer provided a three step framework for creating microlearning Pull activities, which includes:
Step One: Ask, "Is this appropriate for a microlearning treatment?"
Decide whether you're addressing a single learning objective or multiple learning objectives. Jennifer clarified, "If it's addressing multiple objectives, microlearning is probably not your answer." Why not? Because a piece of microlearning should take, at most, five to ten minutes to complete. Within this time constraint, it's very difficult to address multiple objectives. If you need to address multiple objectives, consider breaking it down into different microlearning pieces, each with a treatment authentic to the objective at hand.
Step Two: Make it Efficient
Jennifer encouraged us to, "design the microlearning to provide quick and meaningful access to the answer of the question being asked." In addition to efficient design, the microlearning must also be easy to access and navigate for it to work as a Pull activity. Multiple treatments are often appropriate here. For example, "Have learners watch a five minute video and provide them with access to a job aid, too." The job aid provides context for the video during the first viewing. Thus, learners may only have to refer to the job aid when they need a process reminder. This also builds on the "one objective, one piece of microlearning" parameter established in the previous step.
Step Three: Let it Go
Jennifer reminded us, "You can't measure everything. And generally speaking, microlearning is not assessed." If learners watch a three minute video, they often won't spend three minutes completing an evaluation about it. This step can prove challenging for Learning and Development professionals used to Push training where assessment is both expected and seemingly necessary. Instead, we can look at access rates. Jennifer argued that, "A workflow need drives Pull learning. Access rates tell us whether or not that content is available when and where the learners need it. It also helps us identify process problems deserving of a more in-depth training treatment."
Example
To really highlight the effectiveness of this three-step approach, Jennifer shared this example:
"We have a new client relationship manager (CRM) and we've implemented the capability of looking at client history. This is important for the people in Sales, and they, in the process of their workflow, would want that information, but they don't know how to do it. Using step one, we identify that the activity is appropriate for microlearning because we're only addressing one objective (looking at client history in the CRM). We can make it efficient, per step two, by making sure that the process, which involves five mouse clicks, is defined efficiently, and that the microlearning treatment is readily accessible on-the-job. Finally, we will track access rates to the microlearning piece, rather than include a formal assessment, to ensure that the sales team is reaching for the content appropriately."
Additional Resources
For more information about Push training, Pull learning, and other topics discussed here, check out these related free resources: