BYTE Session Recap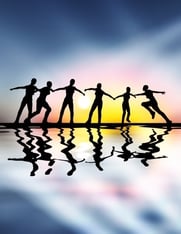 As a follow-up to her informative session Engaging Modern Learners: When to Push and When to Pull, Jennifer Hofmann recently shared Pulling Learners to Your Content: How to Make it Work with our BYTE session attendees. Over the course of this engaging live online event, Jennifer and participants brainstormed on how to leverage social collaborative Pull Learning during the various moments of learning need. This blog will share key questions and the highlights from their collaborative efforts.
How does social collaborative learning align to Pull learning?
Social collaboration is the way we communicate. It's universal, authentic, and participatory. In my opinion, collaboration should be a competency modern classroom practitioners focus on building. The "5 Moments of Need" help us determine what tools to use and how that impacts "Push and Pull Training." Push is a training culture that is very instructor-centered, event based and it's all about the delivery. The Pull culture is more learner-centered, it's continuous, and it's shared. Ultimately, it's all about the results. Social collaboration is how we learn naturally, so it aligns nicely with Pull learning.
How would you use social collaborative tools during specific moments of need?
In this case, it's important to think about the 5 Guiding Principles of modern Workplace Learning, as related to the 5 Moments of Need. Doing so will help guide you in the process of embedding learning in work. First consider what moment of need might people use social collaborative tools, and then design for that moment of need. Think about their environment: where are they learning from? Motivate them to learn at that moment and design the social collaborative tool to fill that.
Social collaborative tools can be used in many ways, including:
Collect questions through discussion board

Allow real time sessions to practice the new skill

New employee orientation – chat and follow-up

Present and follow-up with questions and a summary

Connect with co-workers and peers to find the best answers

Text polls for answering questions
Remembering and applying generally happens on the job. In this moment of need, you can leverage social collaborative tools by:
Using case scenarios/stories

Collecting FAQs using Wikis

Through YouTube, Yammer, or on-demand feeds

Creating game-themed review
When things go wrong, learners often need support right away. Social collaborative tools can come in handy by:
Providing chat or tweet updates

Using screen sharing to trouble shoot

Sharing challenges and solutions in group chats

Hosting virtual WebEx support sessions
Formal training is often used when there is a change in product or process. This is a great opportunity for using social collaborative tools because you can:
Use Google collaborative tools for access to upper level support

Add videos to Yammer conversations

Crete subject-based webpages for housing information updates

Host calls on Skype or Zoom to discuss the impact of the changes
For more information about Push/Pull learning, check out these free resources:
On Twitter, follow: @InSyncJennifer & @InSyncTraining