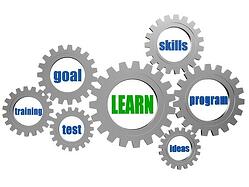 The face-to-face classroom is often considered to be the BEST environment in which to deliver training, and when that option isn't logistically or economically feasible it's only then that we look to the virtual classroom as the runner-up option.
Well, I've got a secret. Did you know that some performance objectives are best suited for delivery in the virtual classroom? And some performance objectives are best taught in the MOBILE virtual classroom?
Hard to believe, right?
Consider teaching a new customer service phone representative how to interact with customers while collecting and inputting data. Traditionally, we would bring the rep into a face-to-face environment – but that's not realistic in terms of their day to day work. The work will eventually be performed at a desk using a telephone to communicate with customers. Using a virtual classroom to deliver this content is much more true to task, allowing individuals to learn in the environment in which they will be performing a task.
All the required skills can be assessed in the virtual environment. Software competency can be observed using application sharing and incredibly realistic role-plays can be conducted in breakout rooms. If the learner can be at his or her own desk while training, using the actual computer, phone, and headset that would be used with a real customer, the training outcome will definitely be more real-work oriented.
And then there is the mobile virtual classroom (click here for the whitepaper on the Mobile Virtual Classroom), and BYOD. Learners are using mobile devices often because they are, well, mobile. To take advantage of that, be sure to think about what skills they need when they're on the go.
For example, if you are teaching a warehouse supervisor how to manage inventory using a tablet, delivering the training via the tablet is a more authentic ('real-life/real-work') way of teaching the skill; therefore the learners will leave the lesson with more skills than when training is taught in a less authentic environment. ("If he is going to perform the task that way, then he should learn the task that way.")
This is called "contextual learning." If we are teaching someone how to create pivot tables in Microsoft® Excel®, that content should be designed for a virtual desktop environment because that is the environment in which learners will be applying the skill. Learning this skill on a mobile device is not only not contextual, it's difficult to see the detail involved with the tasks.
So the next time you are trying to decide if the use of the virtual classroom is a viable option for particular content, take a close look at the desired performance outcome. You might be pleasantly surprised to discover that the virtual classroom is not only viable, it's the best environment for your learners.
Interested in learning more about designing for the virtual classroom? To learn more about our Virtual Classroom Design Mastery Series certificate course and how you can earn your Virtual Classroom Instructional Designer Badge, just click on the graphic below.