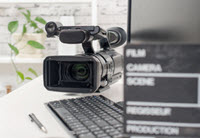 In the spirit of sharing tips and tricks for working with video and audio, we reached back into a featured series of InSync blog posts on technology tools for modern blended learning.
From the series Sorting through the Technology Toolbox, here are some of my favorite tips and tools for you to explore so you can be on your way to creating interactive eLearning, audio, video, and screencasting learning assets.
Tools and Apps for Creating Interactive eLearning
Captivate, Lectora, Camtasia, and Articulate are the big names in this area, but take some time to explore Adobe Presenter and Office Mix. They're both add-ons to PowerPoint that let you build in a bit of interactivity without breaking the bank. I've been doing a lot with Office Mix lately (I'm trying to break my addiction), and I'm very pleased so far.
Features to Look For:

The ability to create branching scenarios and collect learner data are the most important features you'll need. Many of these tools and apps also feature rich image banks as well as the ability to add your own images to templates, so look out for them. Images are always a good thing!


Considerations:

Many of these tools are expensive and time intensive. Check out online tool comparison charts to see which would work best for you. Also note that older versions don't always work with newer materials. Be sure that everyone on your team has the same version!


You Might Want to Learn More About:

PlayPosit. It lets you layer interactive elements on top of existing videos. You can add questions, discussions, polls, and the like right on top of the video in the Playposit player, then embed that code right into your work. It perks up your learners when they have to do something other than just WATCH the video.
Tools and Apps for Creating Audio
I'm a big fan of podcasting these days, and I use Zencastr to record my sessions. I've also used Audacity to record and edit audio, and am currently using Adobe Audition to edit. I'll let you in on a big secret here – I use my phone to record audio most of the time. There are hundreds of audio recording apps for the iPhone, and I mostly use "Just Press Record" or "WavePad" when I need to record.
Features to Look For:

The key to audio apps is the formats that you can save in, so look for .wav and .mp3 options. Editing applications should allow you to use multiple tracks so that you can add music or additional audio (maybe footsteps?) to your recordings.


Considerations:

If I'm recording from my computer, I use a high-end external mic (Blue Snowball), not a headset. And I'm very conscious of edits and changes that I make to a recording. Be careful about changing volume and pitch, and remember that getting good audio in the first place is more important than being able to edit it!


You Might Want to Learn More About:

Google Voice to Text. It's built into Google Docs, and you can speak instead of typing. It isn't perfect, but it's a very interesting way to explore voice to text. Keep an eye on this app – I think it's going to get better.
Tools and Apps for Creating Video
I have used PowToon, Office Mix, and Camtasia to create videos. And I also use my iPhone and iPad to capture a lot of the video I work with. You can use online tools like VideoScribe to create some fun presentation materials, but be sure that whatever you can create you can also edit. My one go-to for microlearning videos is Adobe Spark. It is SO easy to use, and I have created professional looking videos in minutes!
Features to Look For:

Be sure that you have a tool that will allow you to edit video. You want to check for input and output options on any editing tools and apps, and the ability to import and export .wav, .mov, .avi, and .mp4 files.


Considerations:

Be sure you have good audio input in your video capture utility. And plenty of space to store these files! Audio and video files can be large, and some online services charge by file size for storage space.


You Might Want to Learn More About:

Investing in a chrome key screen (green screen) is a good idea if you're going to do a lot of video of people or products. Replacing the background with a corporate logo or image will increase the professionalism of your videos. I use an iPad app called VeeScope Live that lets me shoot video with a green screen and replace the background as I shoot. No post-production required!
Tools and Apps for Creating Screencasts
We use screencasting tools to share demonstrations and to screen walkthroughs. I use Captivate, Camtasia, and Office Mix for my screencasting, and if I have something simple and quick to do, I use Jing. These tools all work the same, but there are more editing features in the higher-end products.
Features to Look For:

You want to be able to set the screen capture area so that your learners don't catch sight of your entire workspace! Also, the ability to highlight, zoom, and pan are useful editing tools. Again, check the file types that you can export – these files are video files after all!


Considerations:

Before you start screencasting, determine the needs of your audience. You may be able to use lower-end tools for some of your productions that don't need highlighting or zooming.


You May Want to Learn More About:

Mobile screencasting tools and apps are fantastic. I use Vittle on my iPad for screencasting demos and can talk and draw on the screen with a stylus (or my fingertip) while recording. I have to say, this is one of the best apps out there!
Always Keep in Mind
Many of these technology tools and apps come with associated fees. Explore pricing and keep an eye on monthly charges (and when they renew). With larger companies buying smaller companies, pricing can change overnight. I know this from experience.
The most important feature related to ANY technology tool or app is the ability to make changes and edits. We all have experience working on a project with last-minute changes. So, as you're exploring some of these tools, or just reviewing what you have in your toolbox, take some time to think about how easy (or hard) it is to make changes in your knowledge or content materials.
Towards the Future
The internet has lowered the cost of contributing content across the board. In the future, I see prices coming down on many of these applications, alongside more ease of use.
And, in my crystal ball, I see that many of the tools and apps that you use today will integrate and work better with your mobile devices, and offer more (and better) voice-to-text functionality.