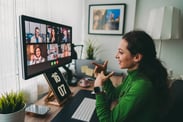 Onboarding and leading a virtual team may at times present a unique set of challenges. Communicating effectively requires extra attention, and identifying personnel issues can be difficult for a remote manager.

In this quick 7-minute video, Presenters Amy Lins and Susan Hillebrandt, learning experts with extensive experience managing remote and hybrid teams, share evergreen advice with those in virtual leadership positions.
To view the video, click here.
For additional information about virtual teams and for in-depth, hands-on training on creating and managing a successful virtual teams, explore our Trends in Virtual Training - Expert Seminar Series page. You can bundle any 5 of these 12 NEW trending topic workshops and get the 6th is free!