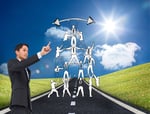 Leading a virtual team presents a unique set of challenges. Communicating effectively requires extra attention, and identifying personnel issues can be difficult for a remote manager.

Presenters Amy Lins and Susan Hillebrandt, learning professionals with extensive experience managing remote teams, share their advice with those in virtual leadership positions.
Based on their popular BYTE session, The Art & Science of Working Remotely, this video can help you identify ways to adjust your management style to fit the requirements of dispersed teams.
To view the video, click here.
For additional information about virtual teams, view the BYTE recording of The Art & Science of Working Remotely, check out our complimentary whitepaper, Creating and Leading a Wildly Successful Virtual Team, and read this blog post, Virtual Teams Are Here to Stay (No Matter What Yahoo Says).
And for in-depth, hands-on training on creating and managing a successful virtual team, take a look at our new Highly Effective Virtual Teams Workshop by clicking on the graphic below.