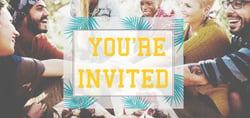 In the mid-1990s, virtual classrooms (then known as "synchronous" classrooms) were new. (Don't believe me? Read some history here!) So new, most people had never heard of them.
But the people who HAD heard of virtual training were very excited. Soon, they proclaimed, none of us would ever have to go to a brick and mortar classroom again! All the ingredients were present to disrupt the Training & Development industry: trainers, participants, and PowerPoint slides! What else did we need?
(This concept of the latest technology replacing the classroom isn't new – read about how Thomas Edison thought the motion picture would replace textbooks here.)
Turns, out, we needed a lot. Simply dropping existing content into the new format didn't work. Experienced training professionals suddenly felt out of their depth – frustrated that their proven ability to be effective in a traditional classroom didn't easily transfer to the virtual environment.
Effective virtual training required more than technology. It required competent virtual facilitators who could read the "body language in the bandwidth" and engage learners using the new collaboration tools available to them.
Enabling the First Generation of Virtual Facilitators
The challenge was identifying a set of effective practices that would enable facilitators to engage learners in a way that ensured learning transfer occurred.
It was obvious we really needed to focus on the basics. How do you manage the conversation when people are contributing using multiple tools like chat, whiteboard, and microphones? Or, what do you do when you can't get individuals to contribute to the conversation at all? My philosophy was the virtual classroom was just a different set of walls – and we needed to learn and communicate fluently within those walls. Technology was just a means to an end. The core skill of a virtual classroom facilitator needed to be effectively interacting with learners.
I published the first edition of The Synchronous Trainer's Survival Guide in 2001 to provide a road map for training professionals to be successful in the virtual environment, and, because facilitation skills need to be practiced in order to be mastered, followed up with our inaugural Virtual Classroom Facilitation Certificate in 2003.
In the last 16 years, we've seen these dedicated professionals set the standards for virtual classroom training.
Celebrating Virtual Facilitators on June 19, 2019 (#VirtualFacilitatorDay)
Great virtual facilitators make sure we aren't subjected to webinar recording after webinar recording – they ensure that learners are engaged environmentally, intellectually, and emotionally in the content. And they make sure learning ACTUALLY HAPPENS!
That is a skill worth celebrating.
On June 19, 2019 InSync is celebrating. We think (okay, we KNOW!) the best virtual facilitators in the world are on our team, leading global learners in Zoom, WebEx, Adobe Connect, and more. They are ready to teach in any time zone, and in seven languages! On June 19th, we'll make a special effort to thank them.
We'll also have activities all month. Want to join the party?
Get to know our team as we publish profiles of our facilitators.

Look for new content and infographics that support the next generation of virtual classroom facilitation skills.

Use #VirtualFacilitatorDay to share your facilitation stories, boast about your successes, and recognize the value a great facilitator brings to the virtual class.