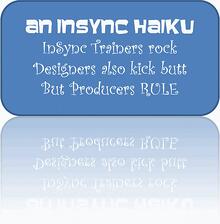 It's Friday - time for lighter fare...
Producing overnight shifts provides a lot of time for reflection...and often entertainment. Being creative helps keep virtual classroom producers engaged. For your Friday amusement, some producer haiku.
During an interruption of internet service
A producer remains calm
And successfully logs herself back in
6:05 PM, Mumbai time
A virtual classroom teeming with boisterous attendees
"Mute All" upon entry
Five frenzied panelists
All wrangling--wrestling for the ball
Alas, there will be blood
The problematic slide deck
Sent, then uploaded, at the last minute
Causes mass confusion and anxiety for all
An impromptu breakout session request
Sometimes results in
Writing responses in chat
A missing facilitator
A ticking clock
Damn you, Daylight's Savings Time!
Interested in becoming a producer and learning about producer haiku? Okay, not really. But if you're interested in becoming a producer, click on the graphic below.