This is the fifth post in a series of seven titled Virtual Classroom Tool Design Basics: A Virtual Engagement Primer. Start reading at the beginning of the series.
Virtual training design doesn't need to be difficult - but designers do need a working knowledge of the features each virtual classroom tool provides.
In this blog series, Virtual Classroom Tool Design Basics, I'll be sharing high-level summaries of virtual classroom tools, including chat, breakout rooms, whiteboards, application sharing, synchronized web browsing, and survey and feedback tools.
If you are an experienced virtual classroom designer, please build on the basics and share your expertise.
Application Sharing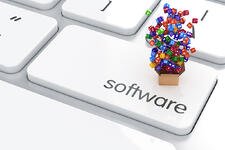 A very popular feature in virtual classrooms is application sharing. This feature allows the facilitator to share software applications (such as spreadsheets, word processing, or custom applications) with participants, even if the participants do not have the software installed on their individual machines. Because the feature is so visually impressive, vendors often use it as a highlight for their demonstrations.
There are many varieties of application sharing, ranging from "view only" on the participants' side to allowing participants to actually interact with applications shared by the facilitator or by other participants.
Although the feature is very powerful, it is often not used creatively. The most common application is demonstrating software and allowing one or two participants to replicate what they saw the facilitator do. This is useful in some circumstances—but it does not promote participant collaboration or provide the opportunity for all participants to learn how to use the software. There are many ways to use application sharing that do successfully teach in a collaborative manner.
Because working with an application during a sharing exercise often takes the facilitator's focus away from the virtual classroom, it is very helpful to have a producer to monitor feedback, questions, and
interactions.
Application sharing can be used to create interaction or collaboration by making your content more learner centered. If you move out of demonstration mode and actually allow ALL participants to practice, you'll be kicking up your instruction.
And remember, participants can use the applications on their own machines during practice periods. Self-directed activities are a great way to teach software.
Instructional Uses of Application Sharing
Use application sharing to demonstrate software features. This is the most common use of this tool and is a good starting point for other, more collaborative, application sharing exercises.
Create a case study and pass control from participant to participant to complete

steps in series. If information from previous steps is needed for later steps, it will encourage all participants to pay attention. Having everyone complete different tasks reduces tedium while teaching a process.

Small groups can collaborate by sharing common office software packages in the breakout rooms. For example, you may want a sales group to determine the best sales mix for their territory during the next twelve months. Give them access to a spreadsheet file and have them collaborate using the spreadsheet.

Participants can use application sharing in individual breakout rooms. This allows them to interact with an application residing on their own desktops. If the bandwidth is available, each individual can work in his or her own breakout room on an application and receive personal assistance from a facilitator.

Application sharing can be a very powerful role-playing tool for teaching skills that involve technology. A single participant can interact with the technology based on a case study or mock telephone call while the other participants watch and provide feedback.
Questions to Ask about Application Sharing
Before designing exercises, you need to truly understand what your tool can do. Every platform (Adobe Connect, WebEx, GoToTraining, etc.) is a bit different. Here are some questions to ask about the application sharing feature in your virtual classroom platform.
What types of applications can be shared? If you have an older or very large application, it may not share well or at all. Ask your vendor about limitations, and be sure to test for effectiveness before creating exercises.

Can the entire desktop be shared? Some synchronous virtual classroom platforms only allow you to share an entire desktop. Some offer desktop sharing as an option. You want to be sure of how to use these capabilities so you can design your exercises with a mind to what the participants will be seeing. You need to plan whether they can see the entire desktop, the entire application, or just a fixed window size of an application.

What are the bandwidth requirements for application sharing? The more items you are sharing, the bigger the impact on bandwidth. If you have five breakout rooms in process, each sharing its own application, it could be more than your network can gracefully manage.

Can participants interact with the application or just view it? While most vendors offer a full application sharing option, some only allow the participants to observe the facilitator interacting with the application.

Can applications be shared from a participant's desktop? There are some circumstances, such as in software development courses, in which the class can benefit from viewing an application shared from a participant's machine.
Check out the other topics in this blog series to learn more about chat, breakout rooms, whiteboards, application sharing, synchronized web browsing, and survey and feedback tools.
To turn this knowledge into application AND earn your Virtual Classroom Instructional Designer Badge, check out our Virtual Classroom Design Mastery Series.