This is the second post in a series of seven titled Virtual Classroom Tool Design Basics: A Virtual Engagement Primer. Click here to start reading at the beginning of the series.
Virtual training design doesn't need to be difficult - but designers do need a working knowledge of the features each virtual classroom tool provides.
In this blog series, Virtual Classroom Tool Design Basics, I'll be sharing high-level summaries of virtual classroom tools, including chat, breakout rooms, whiteboards, application sharing, synchronized web browsing, and survey and feedback tools.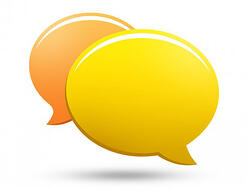 If you are an experienced virtual classroom designer, please build on the basics and share your expertise.
Chat
Chat is probably the most familiar tool in virtual classrooms. It can be used for so much more than Q&A! I always encourage facilitators to make both private and public chat available to participants no matter what the audience size. It's the easiest way to encourage interaction.
Text-based chat lets participants and facilitators communicate with one another using text messaging. Some vendors' platforms offer group chat areas. Others have a feature more closely resembling an instant messaging function.
Instructional Applications of Chat
Chat is a versatile tool. Here are some instructional techniques for you to consider:
In a traditional classroom, a facilitator might give the instruction, "Turn to your partner and discuss how to justify government spending to put an astronaut on Mars." In the virtual classroom, chat lets you conduct the same exercise in chat-based breakout groups of two or three.You can use chat for brainstorming, for submitting questions, and for responding or reacting to content. Instructions for group exercises or self-paced individual exercises can be pasted from a word processing application into a chat area for participants to review during an exercise.

When a participant has a question, the chat feature may let the person "park" the question for a response later from the facilitator – rather than interrupting on the spot. Private messaging, another useful aspect of chat, lets participants signal the facilitator that they are having technology problems or other difficulties – without disrupting a session. If you have a technical support person (such as a producer) online with you during a session, that person can monitor chat to identify and fix technical problems without interrupting the class.

If you happen to be using a subject matter expert, invite that person to monitor the chat area after presenting. Then, invite participants to post questions for the expert in chat. The expert can respond immediately via chat or respond later by e-mail. Or, if warranted, the expert can respond on the spot to the full class. For example, a participant might indicate that he did not understand the instructions for an exercise.
Another advantage of chat is that participants who tend to be shy about speaking up in an audio discussion may be more likely to participate in chat discussion.
Finally, you may be able to save transcripts of chat discussions as text files for use after your learning event is over. Participants can go back and pick up points they have forgotten or didn't notice at first. And facilitators and designers can review chat transcripts to see how well participants followed instructions and caught onto key points.
Checking Out Your Chat: What Should You Look For?
Before designing exercises, you need to truly understand what your tool can do. Every platform (Adobe Connect, WebEx, LearnLinc, etc.) is a bit different. Here are some questions to ask about the chat feature in virtual classroom.
Is full group chat available? Full group chat means everyone can chat simultaneously, and everyone can see all responses. Some virtual classrooms, on the other hand, only allow private chat between facilitator and individual participants.

Is private messaging to the facilitator and/or assistant facilitator available?

Is private messaging among participants allowed?

Can a private message be sent to more than one person?

Can a transcript of chat be saved for later use?

Will the transcript include private messages between participants and/or facilitators?
Check out the other topics in this blog series to learn more about chat, breakout rooms, whiteboards, application sharing, synchronized web browsing, and survey and feedback tools.

And if you're ready to learn exactly how to apply these ideas in the virtual classroom, check out our Virtual Classroom Design Mastery Series certificate course and discover how you can earn your Virtual Classroom Instructional Designer Badge.