This is the sixth post in a series of seven titled Virtual Classroom Tool Design Basics: A Virtual Engagement Primer. Click here to start reading at the beginning of the series.
Virtual training design doesn't need to be difficult - but designers do need a working knowledge of the features each virtual classroom tool provides.
In this blog series, Virtual Classroom Tool Design Basics, I'll be sharing high-level summaries of virtual classroom tools, including chat, breakout rooms, whiteboards, application sharing, synchronized web browsing, and survey and feedback tools.
If you are an experienced virtual classroom designer, please build on the basics and share your expertise.
Synchronized Web Browsing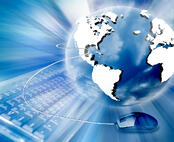 Synchronized web browsing can add great interaction to a virtual classroom design, if only anyone used it. It's easy to create engagement using this versatile tool.

Within the virtual classroom, the feature of synchronized web browsing (or just 'web browsing') allows the facilitator or participants to bring the class to an Internet site or corporate intranet. It provides the opportunity to use the entire World Wide Web as potential content in the classroom. This allows facilitators to browse the web while the participants follow them. As links are clicked or addresses entered into the URL locator, the websites will be launched on the participants' machines. This is another highly demonstrated feature in the virtual classroom sales process, but one that is frequently underutilized once such classes are implemented in organizations.

By allowing participants to work independently during a live session, web browsing can be used to create engagement by making your content more learner-centered. Remember, just because the class is meeting at a particular time does not mean we need to focus on talking. Give your participants a break, and allow them to learn on their own and then be ready to contribute to the group discussion.

Instructional Uses of Web Browsing

Here are some basic ideas to help the instructional designer create collaborative exercises using web browsing.

Have participants access self-directed e-learning, web-based assessements, or pre-recorded video via a web browsing link. The facilitator can provide a specified period of time for the independent activity, and then easily reconvene the class.
Instead of re-creating content that already exists, you can use the Internet or corporate intranet as a content source. This will be more visually interesting than slides and provide the participants with a place to go later to find more detailed information.
One way to allow a participant to share information is to allow that participant to bring the class to a website.
The web can be used as the basis for scavenger hunt type games that can be used for icebreakers or contests. Use the web to teach about competitors, current events, or industry news. By using this method instead of preparing slides, you can ensure you always have the most up-to-date information.
Questions To Ask About Web Browsing

Before designing exercises, you need to truly understand what your tool can do. Every platform (Adobe Connect, WebEx, GoToTraining, etc.) is a bit different. Here are some questions to ask about the web browsing feature in your virtual classroom platform.
If you would like to have participants watch a video on a website (think YouTube), what is the best way to manage the sound?

Can hyperlinks be made available to individual participants? If this is the case, once on a site launched by a facilitator, the participants can click through the links independently. To bring the class back together, the facilitator usually needs to launch the next content item in the agenda.

How are multimedia sites managed? If you want to bring the class to a site that utilizes multimedia, such as Flash, each participant may need to have the appropriate plug-in.

Can bookmarks be created prior to class? If you can create bookmarks, it eliminates the time it takes to type in complicated URLs and minimizes the chances for typing errors.
Check out the other topics in this blog series to learn more about chat, breakout rooms, whiteboards, application sharing, synchronized web browsing, and survey and feedback tools.

And if you're ready to learn exactly how to apply these ideas in the virtual classroom, check out our Virtual Classroom Design Mastery Series certificate course and discover how you can earn your Virtual Classroom Instructional Designer Badge by clicking on the graphic below.