This is the fourth post in a series of seven titled Virtual Classroom Tool Design Basics: A Virtual Engagement Primer. Click here to start reading at the beginning of the series.
Virtual training design doesn't need to be difficult - but designers do need a working knowledge of the features each virtual classroom tool provides.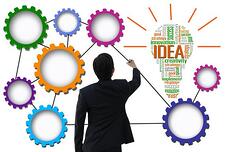 In this blog series, Virtual Classroom Tool Design Basics, I'll be sharing high-level summaries of virtual classroom tools, including chat, breakout rooms, whiteboards, application sharing, synchronized web browsing, and survey and feedback tools.
If you are an experienced virtual classroom designer, please build on the basics and share your expertise.
Whiteboards
The most commonly used tool in the virtual classroom is the whiteboard, where slides and documents are shared as if they were flipcharts in a traditional setting.
Facilitators use whiteboards to record participants' comments, to emphasize important points, and to write exercise instructions.
Use the whiteboard in the same way you would use a flip chart or marker board in a traditional classroom. For example, at the beginning of a live online learning session, you can ask participants to state their expectations. The facilitator then writes down those expectations on the whiteboard and revisits the same board at the end of a program to see whether the session met those expectations. Facilitators can highlight content on the whiteboard as they discuss it, lending a visual emphasis to their comments.
The whiteboard can be used to create interaction or collaboration by calling on participants to write their ideas or conclusions on it. Whiteboard use makes your program more visually engaging and helps maintain participants' focus.
The whiteboard is invaluable for visual learners. Kinesthetic learners benefit as well from the activity of marking it up. For all learners, the whiteboard helps to maintain attention.
Whiteboards have some or all of the following tools: pencil, eraser, highlighter, pointer, text, color, lines, and shapes. Some whiteboards can import files for use like prepared flip charts.
When you ask participants to use the whiteboard, encourage creativity. Suggest they use different fonts and colors as they write. Or encourage them to use the drawing tool instead of typing – making a picture and highlighting its key parts.
Instructional Applications of Whiteboards
At InSync, we LOVE using whiteboards. Here are some instructional techniques for you to consider:
If more than one person can write on your whiteboard at the same time, you have many options for whiteboard exercises. For example, if you want six people to write responses on your whiteboard, make a grid on the whiteboard with six boxes, each clearly labeled. Assign each of your participants to one of the spaces. This activity can work effectively for up to twenty participants. If you have more than twenty participants, ask your non-writing observers to comment on or interpret what the others put on the whiteboard.

You can also play "games" on the whiteboard. Ask participants to sketch in missing parts of diagrams or to fill in crossword puzzles. Games wake people up, drive home key points, and help everyone have some fun.

You can use the whiteboard in software training to take a "snapshot" of a screen showing the application and paste that snapshot onto the whiteboard. The facilitator or participants can then write on and draw arrows to a part of the image.
Wondering about your whiteboard? What should you look for?
Before designing exercises, you need to truly understand what your tool can do. Every platform (Adobe Connect, WebEx, LearnLinc, etc.) is a bit different. Here are some questions to ask about the whiteboard feature in your virtual classroom platform.
Can whiteboards be archived for reuse by participants at a later date?

Can you paste or import graphics to the whiteboard?

How many people can write on the whiteboard at once?

If you close a slide on which you have written and then open it later, will your written comments still be there?

What tools are available for whiteboards? Highlighting? Drawing? Handwriting? Font

size and color? Bullet points?
Can drawings and other graphics be moved once they are on the whiteboard? (This is called an "object oriented" whiteboard.)
Whiteboards and PowerPoint
The most common type of file used as a whiteboard is PowerPoint. This is the visual element that has become the foundation of nearly everything we do in the virtual classroom. Using it to its best advantage is crucial.
Design your PowerPoint slides for maximum engagement. Slides become the online equivalent of eye contact and body language, and changes to the slides can help emphasize content. With PowerPoint, you can find out whether participants are paying attention and whether they understand.
How? Instead of slides with bullet points, show slides that ask questions. Invite participants to discuss the questions on your slides, either with voice responses or by having participants write on the whiteboard.
Some virtual classrooms don't support PowerPoint animations. We've all been in presentations where things fly in from the right or left, or kind of sizzle into place. These are PowerPoint "builds." Make sure your virtual classroom supports this type of visual before you spend a lot of time creating builds because your attempts at visual interaction might be for naught.
Here are some things you shouldn't do with PowerPoint:
Don't place all of your content on slides and then drone on reading the material slide by slide during your live online session. "Death by PowerPoint" is a hazard of in-person presentations. It's even deadlier online because participants know you can't see them dozing off. If you're recording the session, participants will know they can go back and read the slides later and see everything you had to offer. In short, putting all of your content on slides sends the wrong signal to participants: "Pay no attention to me now!" you seem to be saying. "You can read all of this later, on your own."
Don't send out your slides ahead of time. In the same way, participants will think that by reading your slides they will find out everything you have to offer – so why bother to take part in your session?
Don't provide application screenshots in your handouts for the session. Likewise, distributing your slides will cause participants to think they can get the same value from reading the slides on their own as they will from attending your session.
Check out the other topics in this blog series to learn more about chat, breakout rooms, whiteboards, application sharing, synchronized web browsing, and survey and feedback tools.

And if you're ready to learn exactly how to apply these ideas in the virtual classroom, check out our Virtual Classroom Design Mastery Series certificate course and discover how you can earn your Virtual Classroom Instructional Designer Badge by clicking on the graphic below.