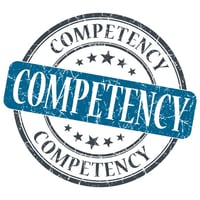 Virtual instructional designers manage the development of learning solutions for live, virtual classroom-based instruction. Without the designer there would be no content to deliver. They connect client needs to solutions through analysis and execution of an effective design process. They make the material come alive by adding context to the content through teachable stories and engaging activities.
Virtually Competent – The Big Picture
In a recent Training Magazine Article titled Virtually There: Developing the Competencies of Virtual Classroom Designers, I identified the core competencies necessary for this skill. The virtual instructional designer needs to be competent in the following areas in order to create quality virtual lessons (see the original article for full descriptions of each).
Analytical instructional design
Impactful engagement creation
Activity creation
Accountability design
Application of adult learning principles
Instructional materials development
Cultural intelligence
Virtually Competent – Day to Day Ownership, Preparation, and Execution
But what does being virtually competent mean on a day to day basis? How does this impact the job description of an instructional designer responsible for creating virtual lessons?
While the high level competencies mentioned above are critical in the creation of new content, there are additional task based competencies that are required for a virtual instructional designer to be successful.
These tasks can be summarized as ownership competencies, preparation competencies, and execution competencies.
Ownership competencies are demonstrated throughout the design and development process, and are also exhibited through implementation. A virtual instructional designer competent in the area of ownership does the following:
Plans and monitors training projects including resource allocations, budget and schedule
Consults with clients, project managers, facilitators and producers on the effective use of virtual classroom technologies
Manages pilot programs for new and revised courses
Advocates for the client to ensure designs meet identified goals
Collaborates with clients, project managers, facilitators and producers to ensure program design is executed correctly and meets stated goals
Preparation competencies are demonstrated prior to the development of a virtual lesson. A virtual instructional designer competent in the area of preparation does the following:
Completes a needs assessment to clearly define a learning solution based on client needs
Analyzes client needs to isolate the desired behavioral change that includes the tasks, sub-tasks, processes and organizational relationships related to that change
Develops a target audience profile
Utilizes a Subject Matter Expert (SME) where necessary to master technical content of course and individual lessons
Execution competencies are demonstrated during development and throughout the lifetime of the virtual lesson(s). A virtual instructional designer competent in the area of execution does the following:
Applies adult learning theories to maximize knowledge transfer
Identifies prerequisite knowledge required of learners
Develops criterion-referenced, performance-based learning objectives for each lesson
Maximizes engagement of learners
Implements a blended learning approach
Integrates the most appropriate learning platforms to meet instructional goals
Develops a cohesive set of learning materials and resources for facilitators, producers and learners
Leverages the producer role in a technical and/or instructional capacity when appropriate
Designs an evaluation strategy tied to key business indicators and measurements
Permits for regular course review, evaluation and revision to ensure alignment with current goals, organizational needs and accreditation standards
Getting The Job Done
Being competent as a virtual instructional designer takes sophisticated expertise in many areas; from instructional design to cultural intelligence. But it also takes attention to detail in day to day tasks, including project ownership, preparation, and execution.
I hope you'll join me for the complimentary BYTE session I am facilitating on Monday, April 13, 2015 - Developing Competencies for Virtual Classroom Designers.
Do you have what it takes to get the job done? To learn more about our Virtual Classroom Design Mastery Series certificate course and how you can earn your Virtual Classroom Instructional Designer Badge, just click on the graphic below.