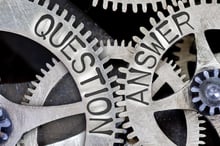 More organizations than ever have transitioned from traditional face-to-face training to virtual classrooms. And since no training element stands alone, most blends include live online components of some kind.
But, even as technology becomes more ubiquitous in corporate learning, decision makers and practitioners have questions about its efficacy.
My team compiled the questions they most commonly hear in their day-to-day work. When I reviewed them, I recognized that the answers speak to core best practices and the value platforms like Zoom, Webex, and Adobe Connect contribute to enterprise training.
How do you determine if virtual learning has been effective?
Virtual instructor-led training is effective when it meets the goals of the business and the needs of the learners. If live online learning meets these two criteria, we consider it effective. From an ROI-standpoint, effective virtual classroom training is worth the time, resources, and effort it took to deliver. In getting back to basics, instructional design contributes to creating effective virtual learning.
What are the biggest strengths and weaknesses of the virtual classroom?
Every learning environment comes with advantages and shortcomings. In the virtual classroom, I encourage you to consider the following:
Strengths

Teaching people virtually aligns with our virtual, mobile, and globally dispersed workplace. When we teach employees online, we also teach them how to work virtually and how to more efficiently do their jobs.
As our organizations become more global, our workforce becomes more diverse. Virtual training captures the diversity of our learner-base more completely than traditional face-to-face learning. With the virtual classroom, we can reach learners where they are, in their native language, and with localized content.
Surprisingly, the logistics of the virtual classroom are easier than traditional face-to-face training events. We can design, deliver, and roll-out programs simultaneously, allowing for timely learner engagement. Yes, this requires planning and coordination, but in my experience, it's more manageable than strategizing on-site training for a dispersed team.
Virtual classrooms allow for authentic learning. Training strives to improve employee performance and engagement. In the virtual classroom, we can deliver skill building in the same technologies employees execute their work. This process allows for application, not just instruction.

Weaknesses

Everyone still believes virtual training is a webinar. Even after 20 years of widespread availability, people still have not experienced real training in the virtual classroom. Past bad experiences demotivate learners in future training programs. Organizations need to not only change the delivery method, but also the learning culture itself when introducing the virtual classroom to their blends.
All virtual classroom platforms include a number of useful tools. Unfortunately, many practitioners do not learn what these tools can really do. When facilitators or designers misunderstand the platform, virtual training often involves little more than pushing slides, and maybe sharing a video. Without engagement or interactivity, virtual classrooms can quickly fall flat.
Which virtual classroom features are invaluable to facilitators and learners?
When I'm facilitating live virtual classroom training, my three go-to tools are:
Whiteboard
Chat
Breakout rooms
Planned whiteboard activities engage almost everyone in a session simultaneously, and offer facilitators with a high-level snapshot of group progress. Chat allows and encourages people to "talk" even when they can't, or don't want to, speak aloud. Breakout rooms allow for real learning to happen, as they provide a place for practice, application, and targeted peer-to-peer collaboration. The only caveat? Breakout rooms can be intensive, so they need to be worth the time.
Do you have questions about the virtual classroom? Share them in the comments or connect with me on LinkedIn!