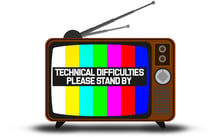 One of the most common questions my team and I receive about virtual learning events boils down to technology: how do you make sure glitches don't cause learners to disconnect?
I love this question! It means that stakeholders, designers, and facilitators care about the experience learners have in a session. Plus, it also speaks to program success – people who want to prevent technology from derailing training from achieving the bigger goal of improving performance and developing participants' skills.
First, I want to assure you that technology issues can and will happen in the virtual classroom. Sometimes storms roll in and the power goes out. Sometimes learners can't connect to audio. Sometimes the universe just seems to have it out for technology. Now, just because Murphy's Law applies to this learning environment does not mean it eliminates its efficacy in a blend.
With the right approach to technology issues, the virtual classroom can absolutely be leveraged as an option in your blends. I recommend the following fundamentals, as my team and I build our proven 4-step disaster recovery technique around them:
Don't overly focus on the technology issue.
Training facilitators and producers embody the attitude of a duck – calm on the surface and paddling like crazy under the surface. When a technology anomaly happens or a learner brings difficulty to your attention, acknowledge it. Learners need to know that their concerns have been validated and that an expert will solve them. BUT harping on or dramatizing technology issues can spin everyone into a tizzy. Instructional partnerships offer a great advantage in these situations, since facilitators can keep the content delivery on track (as much as possible), while producers can trouble shoot the widespread problem or support the individual learner experiencing difficulties.
If video's the issue, consider turning it off.
Sometimes a technical problem only impacts a single user, and other times it becomes a widespread meltdown. With more platforms incorporating video capabilities and more teams using it to "put faces to names" in the virtual learning environment, I'm hearing more questions about how to handle video issues. My advice relies on the mentality that "a consistent, equivalent experience for all is better than a complete planned experience for a few." If a group of participants have video issues, turn it off for everyone. Almost all program designs use video as an add-on, rather than a core interactivity requirement. Don't get so hung-up on making it all work that you destroy a program timeline obviously struggling with a tech issue. As a helpful hint – video issues often represent a bigger bandwidth problem. If video is a must-have, make sure to share internet connectivity requirements with all learners before the session so they can check their systems for compliance.
Keep links on hand.
Synchronized web browsing and playing videos or audio recordings can make live virtual training sessions more dynamic. But, sometimes the virtual classroom platform simply rejects the notion of screensharing, web browsing, or media playbacks. In this case, having the links readily available to share in chat can prevent session-wide frustration. If the media is absolutely essential to an exercise or the content, share the link in chat, ask learners to spend X amount of time watching it in their own browsers and have them give a green check when they've finished consuming the content. If the media content was "nice to have," send the links out in the follow-up message and make it pre-work for the next session.
One last bit of advice pertaining to handling technical issues: preventative measures are much easier to implement than in-the-moment solutions. Set learners up for success by hosting a pre-training program virtual classroom session to introduce the platform, tools, and participation expectations. In addition to familiarizing learners with the environment, it also allows producers and facilitators to test that everyone's systems are set up before game time.