This New Role Sets Your Internal Benchmark for Quality and Learner Engagement
Good L&D teams create good learning programs and deliver them well, leading to good business results. Great L&D teams continuously improve the quality of their learning programs and deliver excellence, leading to great business results. The difference between good and great is coaching.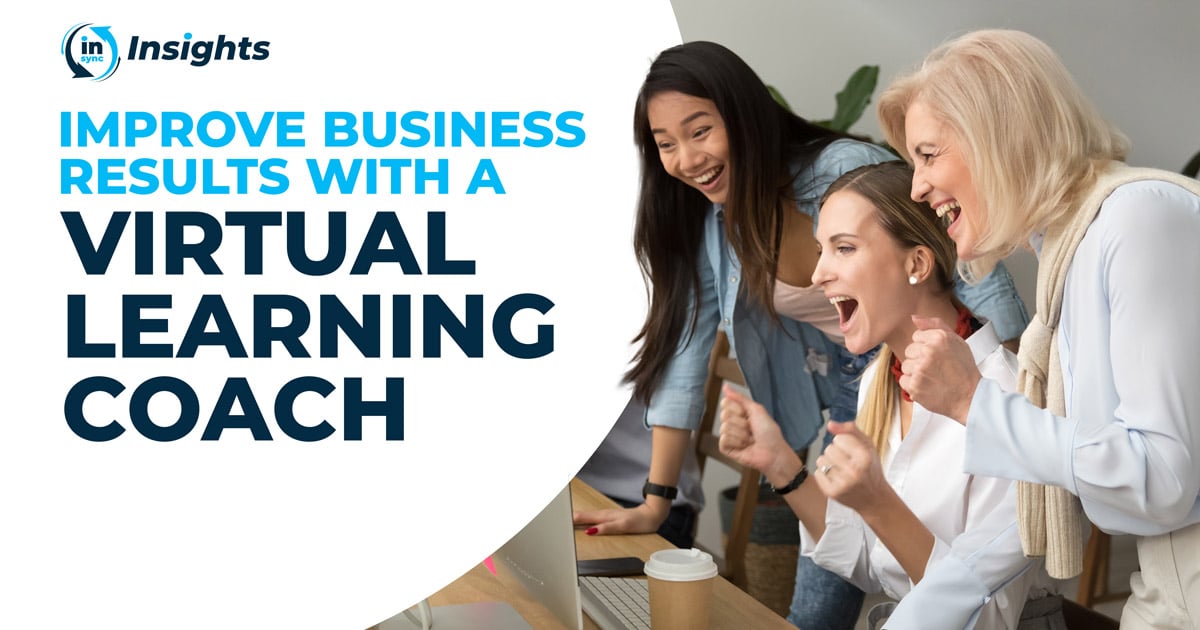 The International Coaching Federation (ICF) defines coaching as "partnering with clients in a thought-provoking and creative process that inspires them to maximize their personal and professional potential. The process of coaching often unlocks previously untapped sources of imagination, productivity, and leadership." Coaching is NOT the same as teaching. It is NOT advising or telling people what to do. It is a partnership approach that enables the coachee to identify their own opportunities for improvement.
Perhaps coaching is already part of your organization's leadership approach; however, according to the Harvard Business Review, "managers tend to think they're coaching when they're actually just telling their employees what to do." They go on to say that with the right training, training managers can coach their training teams to excellence.
The Virtual Learning Coach knows what excellence looks like in the virtual classroom, and they can unlock the potential within others to achieve that excellence.
The Multifaceted Role of a Virtual Learning Coach
One of the most quoted definitions of coaching comes from Sir John Whitmore: "unlocking a person's potential to maximize their own performance. It is helping them to learn rather than teaching them." Therefore, a Virtual Learning Coach unlocks the potential of designers, facilitators, and producers to maximize engagement and reach virtual excellence in all learning programs.
In today's digital era, the role of a Virtual Learning Coach has become increasingly vital. It is pivotal in ensuring the success of a virtual learning program. Though they may not directly design, facilitate, or produce the virtual learning experience, they play a significant role in identifying what excellence looks like in these areas. Their key responsibilities include guiding the virtual learning strategy, overseeing programs, managing people, and fostering professional development. They wear many hats, including the following:
The Manager. As a manager, they oversee the entire virtual learning program. Strategic planning, setting quality standards, allocating resources, and managing the virtual learning team all fall under their jurisdiction. They monitor and evaluate the effectiveness of the program, making necessary adjustments to ensure alignment with the organization's goals and learners' needs.

The Trainer. As a Trainer, the Virtual Learning Coach is tasked with providing training and development opportunities for the virtual learning team. This could involve teaching them about the latest virtual learning technologies and strategies for engaging learners or how to design effective virtual courses. They also provide one-on-one coaching to facilitate personal and professional growth.

The Identifier of Excellence. Possessing a keen understanding of what good looks like in terms of virtual design, facilitation, and production, the Virtual Learning Coach sets benchmarks and standards for the virtual learning program. They guide the designers in creating engaging and learner-centric courses, assist facilitators in delivering interactive sessions, and advise producers on effectively managing the technical aspects.

They do so through observations and conversations, rather than teaching or telling. They work with robust rubrics to assess achievement against set criteria and help the individuals use those same rubrics to identify their own development needs.

The Mentor. Finally, as a Mentor, they guide new virtual learning professionals. They share their knowledge and experience, provide constructive feedback, and help the new specialists navigate their roles. They foster a supportive learning environment that encourages continuous learning and improvement.
By identifying quality and excellence in design, facilitation, and production, the Virtual Learning Coach plays a crucial role in shaping the virtual learning strategy and programs, managing the people involved, and driving their professional development. They ensure that the virtual learning environment is well-managed, the team is well-trained, and new specialists are well-guided.
[Elevate Your Virtual Training Strategy: Enroll to Become a Virtual Learning Coach]
How do Virtual Learning Coaches Work with the Instructional Team to Impact Learner Engagement?
Virtual Learning Coaches work with the instructional team closely and regularly. They work with Virtual Designers to ensure that their programs provide opportunities for engagement and that they include the detail needed by the rest of the instructional team. They work with Virtual Facilitators to ensure they are consistently delivering engaging virtual classrooms that enable learners to achieve the learning objectives.
They work with Virtual Producers to ensure they are consistently supporting smooth, engaging virtual classrooms. Virtual Learning Coaches not only ensure all three dimensions of engagement are being consistently met, but also help identify areas for continuous improvement so that no matter how experienced the individual is, there are always opportunities for growth and development.
They also work with L&D Managers or Quality Teams to set the standard for what great looks like at their organization. Anyone achieving the InSync Virtual Learning Coach designation can use our proprietary rubrics, saving a LOT of time and effort from having to create their own. Even with robust rubrics, it's important to work with others to ensure consistency when interpreting them, as well as to prioritize competencies in terms of what must be achieved versus what would be nice to achieve. This is especially true with newer members of the team.
One of the other useful roles the Virtual Learning Coach can play is a consultant to whoever trains your L&D Team. Since they will be the one most familiar with what everyone's learning intents are, it makes sense for them to work with those responsible for providing your team development opportunities. They'll be able to identify any common themes and make suggestions about what the designers, facilitators, and producers might find most helpful.
Key Competencies of Virtual Learning Coaches
Utilize Strong Coaching Skills. Virtual Learning Coaches must have strong coaching skills and must adopt a coaching habit in their everyday leadership approach. They need to be a great listener and have a questioning reflex rather than a righting reflex. Inc. Magazine lists the five essential skills for successful coaching as "Listen with curiosity; Take in what you hear; Reflect with accuracy; Question for exploration; and Provide feedback for development." These coaching skills apply to all coaches, whether in the virtual classroom or not.
Effectively Engage their Coachee. Virtual Learning Coaches use the InQuire Engagement Framework™ to engage their coachees. They consider how the environment they're coaching in impacts the effectiveness of their discussions. When coaching remotely, they ensure there are no distractions and that they have a strong internet connection with clear audio and video. They discuss the importance of the right environment with their coachee so that they schedule their conversations for a mutually convenient time.

Coaches will also consider how to stimulate intellectual engagement with their coachee by asking them to reflect on their own performance before even thinking about providing feedback. They'll find out the coachee's learning intent for the coaching session and build from there. They'll also nurture emotional engagement with their coachee throughout their partnership to establish trust and a psychologically safe coaching environment. The coach-coachee relationship is important if candid conversations are to be had and real progress is to be made.

Understand and Apply Learner Engagement to Coaching Interactions. One of the key characteristics that differentiates Virtual Learning Coaches from any other type of coach is the ability to understand learner engagement in the virtual classroom. Generally, Virtual Learning Coaches are already experienced learning practitioners and have experience in the virtual classroom, but some may not have experience in every role with which they coach. That is ok as long as they do fully understand that role and the importance that role plays in learner engagement.
Why Do You Need Virtual Learning Coaches on your L&D team?
Alongside the rest of the Instructional Team, Virtual Learning Coaches need to be ready for hybrid learning environments. They will need to understand all the possible configurations of hybrid learning and the impact such a change of environment will have on the virtual classroom. They need to be able to coach designers, facilitators, and producers on how to engage everyone in a hybrid environment and ensure no one gets left behind.
As the roles of designer, facilitator, and producer continue to evolve, so too must the role of a Virtual Learning Coach. They must be willing to continuously develop and work with the executive leadership team to promote a culture of continuous learning and improvement throughout the organization.
With the rise in hybrid working comes the norm that coaches will work with people they've never met in person. As a result, there will be even more of a need to establish strong working relationships early on so that there is emotional engagement between coach and coachee. These relationships will have to be built more intentionally when working remotely to ensure a solid foundation for coaching conversations going forward.
To ensure continuous improvement in virtual content development, support, and delivery, Learning & Development needs a systematic process that monitors quality and improves individual performance. Virtual Learning Coaches are a critical part of the quality cycle.
The Virtual Learning Coach is the linchpin holding together the various aspects of a successful virtual learning program. Their multifaceted role ensures the success of the virtual learning program and enhances the overall learning experience for all involved. As we continue to navigate the digital landscape of learning, the importance of this role will only continue to grow.
There's More to Learn!
To master the role of Virtual Learning Coach, you need to learn to assist members of the training team in creating their own paths to virtual training excellence. Learn what virtual design, facilitation and production excellence is and use proprietary evaluation instruments to assess your team members and help them identify development opportunities. Learn all of this and more by completing our Certified Virtual Learning Coach Series.