An Internal Learning Consultant that Ensures Quality in the Virtual Classroom
As the pandemic took hold, many learning & development organizations found themselves in uncharted territory—navigating the complex world of virtual training for the first time. Suddenly, traditional physical classrooms were replaced with virtual classroom software, transforming the way we perceive and engage in learning.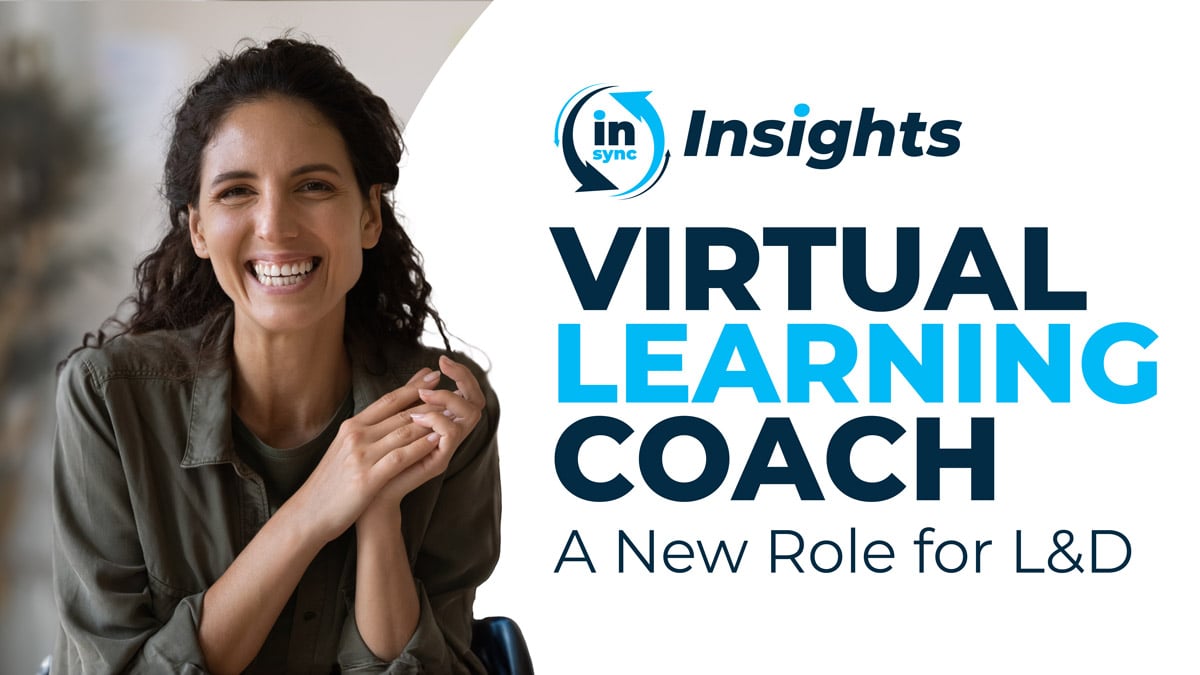 It was a time of firsts; a time when even a basic successful completion of a live online virtual instructional delivery by learners was hailed as a significant achievement. The feeling of "Wow, I really learned something valuable from this training" was a testament to the resilience and adaptability of both the educators and learners in trying times.
Now, it's time to move forward. Expectations are higher for virtual classes. And someone in your organization needs to lead the charge.
Enter the Virtual Learning CoachTM, The Expert in Your Organization's Virtual Learning Success
Today, virtual training is ubiquitous, and it is remarkable if your virtual instructional delivery is marginal–learners expect effective, efficient learning delivered via the virtual classroom. Now more than ever, it's critical for training professionals to master the virtual classroom.
To develop a strong internal virtual training capability, virtual training stakeholders across the organization need to be ready to assess, coach, and develop individuals new to virtual classroom support, as well as those who are performing marginally. The Virtual Learning Coach can lead the organization to virtual classroom excellence, but only if they have the skills to identify opportunities for improvement and provide feedback in a meaningful way.
[Elevate Your Virtual Training Strategy: Enroll to Become a Virtual Learning Coach]
Failure to achieve learning objectives (and the organizational objectives driving them) in virtual learning is not a result of the virtual classroom being a placeholder until we can get back to in-person training–instead, it's a result of the instructional team probably not being used to leveraging all of the capabilities of the virtual classroom to enhance the learning experience. Bad habits learned early in the pandemic are now likely limiting your capacity to achieve virtual learning excellence. The Virtual Learning Coach is the solution.
A Virtual Learning Coach is not an instructor, but rather an expert in virtual learning techniques and practices that can ask you the right questions to propel you forward in the "art" of virtual instruction. They focus on the instructor and their efficacy in the virtual learning environment. Together the coach and virtual learning professional (virtual facilitator, instructional designer, producer, host) identify weak areas and develop approaches to remediate them, all with an eye to aligning the instructional experience with the desired outcome.
A Virtual Learning Coach is a type of internal learning consultant, and the focus of the instructional coaching is helping your L&D colleagues master the virtual classroom. Notably, the Virtual Learning Coach has the advantage of already being well-versed in the L&D practice, the organization, and its training needs. If properly trained as a coach to provide meaningful, measurable formative feedback, the net effect is to "raise the bar" for all L&D practitioners in the organization.
Raising the Bar on Your Virtual Learning Initiatives
Coaching is the key to getting employees to take their self-reflection and move it to first self-improvement and ultimately virtual instructional excellence. InSync's Inquire Engagement Framework™ adopts coaching methodologies and techniques developed in research and tailors them for the virtual instructor and the unique environment of the virtual classroom. The coaching objectives support the following goals:
Identify and explore opportunities for virtual classroom designers, facilitators, and producers to maximize learner engagement so that they can all enhance learner outcomes.

Nurture the evaluation of individual instructional performance within the virtual classroom using established measures.

Assist in the increase of overall competence of your virtual training team through collaborative and social peer-modeled performance.

Guide and sustain a culture of continuous improvement instructional practice.

Foster individual awareness of personal instructional strengths and areas where instructional practice needs assistance.

Ensure the "People to People" approach to engagement is applied in all design, delivery, and support of all Virtual Instructional Practices
Including This Role in Your L&D Organization
If implementing a virtual learning coach practice appears to be a logical step for your organization, here are some initial best practices that should inform your implementation:
Virtual Learning Coaches should be treated as learning consultants, insofar as they're at least partially removed from the day-to-day instructional practice.

Virtual Learning Coaches should be intimately familiar with the virtual classroom platform in use at your organization and its capabilities.

Similarly, Virtual Learning Coaches should be intimately familiar with best practices for instructional delivery and learner engagement in the virtual classroom.

Formative feedback provided by a Virtual Learning Coach is NOT assessment, but rather a means of establishing a path to excellence recognized by the individual being coached.

The training of a Virtual Learning Coach should focus on providing formative feedback based on established and well-understood measures.

Coaching practices are based on establishing mutual respect and rapport between the Virtual Learning Coach and the instructor.
[Click here to Elevate Your Virtual Training Strategy: Enroll to Become a Virtual Learning Coach]
Establishing a Process that Normalizes Quality in the Virtual Classroom
An observation and evaluation process is a critical part of your professional development plan. Having a meaningful practice requires using a set of achievable and consistent measures directed at the delivery of instruction in the virtual classroom that are separate and distinct for the subject matter being taught. The measures should focus on techniques, methods, and strategies in the virtual classroom that enhance learner engagement and outcomes.
The Virtual Learning Coach™ approach to improvement draws on research in individual psychology, tailored for the role of instructor in the virtual classroom. This process has four steps:
Step 1: Self-Assessment and Observation
All coaching interventions should start with self-assessment and observation to establish a common understanding of the current state of the individual's instructional practice.
Step 2: Identification of Opportunities for Improvement
Identification of specific, achievable, and measurable interventions by both the coach and coachee in the short-, mid-, and long-term timeframes drives goals directed at evolving instructional practice toward excellence.
Step 3: Review and Refinement
A periodic review of progress against performance goals allows the Virtual Learning Coach and individual instructor to identify gains and resulting learner outcome improvements. As instructional practice is enhanced, new measures may be brought in to continue a path to virtual learning excellence.
Step 4: Ongoing Assessment and Feedback
As the saying goes "ain't none of us perfect"–even in the case of the highly effective instructional practice of an instructor, the virtual classroom environment itself is constantly evolving, bringing new capabilities and opportunities to enhance instructional practice. That requires an ongoing process of evaluation and improvement across the L&D function in the organization. A Virtual Learning Coach can guide coachees to develop and implement an evolving set of measurable standards that drive the organization to virtual excellence even as the playing field changes.
Virtual Learning. Real Results.
Virtual classroom programs can achieve real results. Without a doubt the Virtual Learning Coach can accelerate the process. It's a separate and distinct role from collecting affective learner response data–it focuses on the instructional team and not on learner response. Focusing on the learner to the exclusion of the instructional team misses half of the key players in the learning environment. A Virtual Learning Coach addresses this need and helps your organization achieve virtual learning excellence.
Master the role of a Virtual Learning Coach by assisting your training team in their journey toward virtual training excellence. Learn about virtual design, facilitation, and production excellence, utilizing proprietary evaluation instruments to identify development opportunities. Get started today! Elevate Your Virtual Training Strategy: Enroll to Become a Virtual Learning Coach