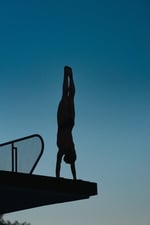 Being new at anything is an odd mixture of excitement, nerves, eagerness, and a tiny bit of apprehension. This is my first week at InSync, and I feel like I'm about to jump off the high diving board at the pool. My secret (shhh, don't tell!) is that I'm not a learning industry expert, and I'm learning this job as a marketing team assistant from the ground up.
I'll be learning how to write posts for social media, communicate with university clients, and generally help with whatever is needed. I'm incredibly excited for the chance to learn something completely new but also a little afraid that I will mess something up, and cause a marketing emergency (whatever that could be).
It goes without saying that I'm incredibly excited for this professional development opportunity. I know I'll build my marketing skills through hands-on practice. In my first week alone, I've had a crash course in Adobe Connect, HubSpot, Outlook, and Skype. I feel like I've received a whole new education in acronyms related to the virtual classroom, to say nothing of confusing The Hub with HubSpot in a meeting (whoops!).
My education has begun, though - I've found I've already learned so many new things about learning. Virtual learning is almost completely new to me as it never really occurred to me how companies with multiple locations and globally-dispersed employees would train them all, or who would be doing the training. I have taken a couple of college classes via Blackboard, and as a student, it's frustrating to have to wait multiple days to hear from a classmate or a professor on the moderated message board, or to have the system crash as you upload a project.
What InSync does is so much more technologically advanced that it's barely in the same universe as the slow, glitchy, old-school message board approach to virtual learning. I'm finding that the virtual classroom can be so much more than this, and I'm eager to see the full capacity of virtual blended learning, and maybe take a couple of courses this summer to compare.
I think that I have a unique perspective in the virtual classroom as I have not been involved in it previously. Before being hired by InSync, I had never even heard of Adobe Connect or WebEx. Some would say that this is a disadvantage and I need a proper background in blended learning to promote the company. But my inexperience gives me the chance to look at things with a fresh eye and a willingness to learn from the best in the industry. I've also had to explain what InSync does about a million times to the uninitiated, which helps me master the verbiage of an industry new to me.
It's not all scary, though. I've been warmly welcomed by the entire InSync team. It's given me the confidence to ask questions and do the best work that I can. I have a little bit of a "fake it 'til you make it" attitude but I think all college students have that at their first real job.
My mom always says that you can't be afraid to be a beginner, and I'll definitely be taking that advice to heart as I attempt to figure out the InSync watercooler culture via Skype.