As the workplace continues to evolve, and training approaches evolve to support it, at some point it will be hard to distinguish the difference between working and learning. And that's a good thing.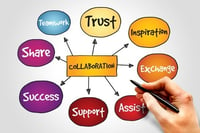 We've been hearing a lot about the modern classroom environment lately. And there is no doubt that modern learners have more options about where and how they learn. We also know that today's workplace demands training be embedded in the workflow, with minimal disruption to the daily routine.
The following circumstances are driving the modern learning culture:
For the first time in modern history, we have four generations of workers in the workplace. They have very different ways of seeing the world and different ways of interacting with each other, their peers, their subordinates, and their supervisors.

Virtual teams dispersed across the globe—it's not uncommon for every participant in a working session to be from different time zones and cultures.

The desire by individuals to access content when and where they need it. In the world of smartphones and Google, individuals expect that answers are just a click away.

Workplace collaboration is expected. Whether across the hall or across the country, the modern workforce no longer works in a vacuum.
It's ironic that while access to content is becoming more individualized, teams are becoming more collaborative in nature, while concurrently losing physical contact.
So as our workforce becomes more global, virtual, and mobile, how should we evolve our learning culture to support it?
Here are 10 things you can do to get started:
1. Establish collaboration as a competency.
The problem with collaboration, and online collaboration in particular, is that it is an ambiguous concept. Who's in charge of collaboration? How do you make it work? Training experiences should include immersive collaborative experiences, and learners should be expected to model those experiences back on the job. Simply put, by teaching workers how to successfully collaborate while learning, you teach them how to be successful in their jobs.
2. Personalize collaboration.
Allow learners to figure out the best tools for collaboration. Open the door for a process for individuals to introduce tools on the fly to collaborate with virtual team members. And encourage learners to use those tools for learning, as well as for working. What works for the team works for the culture, and makes the company more productive.
3. Foster independence and interdependence.
Hire self-motivated and self-managing individuals. Then, teach these independent people that they need to learn to rely on one another. I call this becoming "independent and interdependent." This is a difficult balance. Often, the people that are the most independent are the people least likely to trust an interdependent relationship. And generational differences may come into play here. For example, Generation X workers are independent and they value the autonomy of being able to do their own work, while Millennials generally appreciate collaborative problem solving. Clearly, they can teach each other about independence and interdependence.
4. Engage managers and organizational leaders in learning.
As an industry, we haven't done a good job of engaging managers, and because of this, learners often don't get the support they need. Many of those managers haven't ever participated in learning from their desks, and don't understand how to support the process for their employees. Managers may need to be taught how to help their employees maximize the experience, but they need to understand it first. Engage them early, set expectations for what their employees will be experiencing, and then find a way to involve them in the learner evaluation. After all, they are ultimately responsible for the performance of their teams.
5. Connect communication methods.
Support a variety of communication preferences and provide connections between them. For example, I prefer e-mail to listening to phone messages. So my voicemail messages are automatically transcribed and sent to my inbox. This type of communication support provides accessibility, supports individual preferences, and allows multicultural organizations more ways to avoid misunderstandings.
6. Create community.
Actively support a community of practice within the organization and across organizations. This encourages learning from one another, and provides a repository for "tribal knowledge" for future workers. Rotate moderation responsibilities to allow individuals to learn how to manage a social network, and have a plan to engage past, present, and future learners in the community.
7. Reflect as a team.
Have virtual teams reflect on their success (or lack of) as part of their work, and use social/collaborative networks to safely address shortcomings and share best practices. This allows for constant individual reflection, and encourages connections between remote colleagues.
Before worrying about technology and content, think about what you want learners to do and where they need to do it. Recognize that the modern workplace learning environment is about creating experiences that are relevant and accessible, and deliver content to learners in the right place—classroom, desktop computer, mobile device, or on the job—at the right time—formally scheduled or on-demand.
9. Embed learning, and make learning easy.
Move away from learning being an "event." Recognize how much informal learning happens, and plan for that. Simple microlearning activities such as videos, podcasts, and job aids allow learners to get the answers they need and move on.
10. Make learning meaningful.
Recognize that adult learners are practical, internally motivated and self-directed, and want everything they do, while learning or working, to be relevant. Move away from abstract case studies and create meaningful activities based on real work that use real tools in an authentic way.
Look through this list and identify what your learning culture already supports, and make that standard operating procedure. Then, create a plan to implement the other suggestions. Engage your colleagues in the activity, and you'll start to see the results.
What it all comes down to is this: As the workplace continues to evolve, and training approaches evolve to support it, at some point it will be hard to distinguish the difference between working and learning. Not a bad thing, from where I sit.
For more about modern workplace learning, I encourage you to visit Jane Hart's site dedicated to the topic.
This article originally appeared in Training Magazine Online on September 18, 2015 in the column "Virtually There."