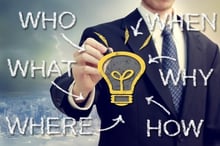 What is the difference and why should you care?
The modern workplace learning environment is about creating experiences that are richly authentic and deliver content to learners in the right place—classroom, desktop computer, mobile device, or on the job—at the right time—formally scheduled or on-demand. (On-demand as a concept also has evolved. Jane Hart of the Centre for Learning & Performance Technologies discusses the concepts of learning in the flow of work and at the point of need as critical to modern workplace learning.)
Why Should You Care?
Learning design isn't just dictated by where and when learning takes place; designers also need to consider and decide which technologies best fit the delivery of certain content—that means thinking about which implementation techniques and instructional practices make the most sense for the situation. Because these concepts can seem to overlap or contradict one another, and a lack of full understanding can result in creating training on a "trendy" platform that is nevertheless inappropriate, we need to distinguish between three distinct concepts:
Instructional technologies
Implementation techniques
Instructional methods
1. Instructional technologies:
Contrary to popular belief, traditional classrooms, desktop computers, and mobile devices are not considered instructional technologies. Though they are learning environments (as defined in the article Where and When Is the Modern Classroom?), the title, "instructional technology," refers more precisely to a category of tools and tool sets that are utilized across learning environments, face-to-face or otherwise. Examples include: online collaborative hubs (e.g., discussion boards, wikis), videoconferencing software, and live virtual classrooms.
Instructional technology selection is probably the most familiar part of program, course, and lesson preparation among today's professional facilitators. For many, it comes down to a choice between e-learning environments and virtual classrooms (as dictated by scalability and cost). It's easy to imagine, for instance, a context in which new product training has to be rolled out to a global salesforce within a two-week time frame. Under those constraints, the training staff might understandably default to a virtual classroom setup. Well-designed, this can be powerful. Yet—as so often happens when designing for speed over quality—it's likely that the virtual classroom simply will supply webinars that offer little facilitator-learner or learner-learner interaction and lose much of the value afforded by the format. That's why, as a general rule of thumb, it's always good to ask yourself: Is this the best tool to help my learners reach the learning objectives, or am I sacrificing my learning objectives just to use the tool I want?
This can be difficult to answer, especially if your instructional technology options are limited by organizational policy or resource availability. As a precaution, we recommend making technology selection the last step of the design process after confirming your learning objectives and assessment strategies. If you can assess your objectives in a self-paced format, you probably can deliver the content in the same way. If you need to assess your objectives in a live setting, then the content also should be delivered in a live setting (virtual or face-to-face). When all is said and done, objectives should the driving force behind instructional technology use—not the other way around. How and to what extent your trainees will learn all comes down to the wise integration of technology based on sound implementation techniques and instructional methods. (For more on the role of instructional design in the modern learning landscape, click here.)
2. Implementation techniques:
Implementation techniques can involve any and all of the instructional technologies discussed in the previous section and can be deployed in classroom, on a desktop computer, or via a mobile device. They do not emphasize which tool or toolset is used but instead focus on how content is conveyed to the learner. This includes:
Stand-alone courses, the formal instructional modules designed to fully explore a particular piece of content. These are the business version of traditional school courses and typically come with clearly defined learning objectives, assessment measures, and an individual facilitator. One example might be a 30-minute e-learning module on the topic of sexual harassment awareness. The module is intended to fully address the required learning and includes some activity and/or evaluation measure. While some courses are brief, others might be one or more days (e.g., a two-day product training program delivered in a classroom). Importantly, once the course ends and assessments are complete, the learners are done.


Blended learning, a formal instructional treatment that involves matching content to the most appropriate delivery technology (at the learning objective level) and sequencing the resulting lessons, activities, and assessments into a complete program of instruction. In academic settings, this often features a combination of face-to-face interaction and distance learning (i.e., the use of discussion boards, group wikis, and other online resources). In business, it usually involves a facilitator identifying individual learning objectives and pairing them with available technologies that optimally convey the content. As multiple instructional technologies and methods are woven together, the facilitator is able to deliver necessary information based on where and how learners will apply it in the workplace.


Microlearning, a means of delivering content to learners in brief, specific bursts. In microlearning environments, learners control what and when they're learning, occurring on-demand at the point of need. (See also: John Eades). Each "burst" addresses a single learning objective and is delivered in segments of (generally) less than three to four minutes. Popular formats include videos, podcasts, and infographics and often embed a "call to action" that encourages learners to immediately rehearse what they have learned and/or complete a self-contained quiz that will reinforce content recollection. Most microlearning occurs informally, and assessments typically are not recorded.
3. Instructional methods:
Instructional methods describe how learning is designed and moderated. As educator Karl Kapp says, "...is a design choice, not a delivery method." Examples of instructional methods include gamification, simulation, and social collaboration, as well as those to which most learners already are accustomed: lectures, case studies, and role-playing. They may be incorporated as part of a formal instructional program or used informally within a given community of learners, employing a variety of technologies to design and moderate the overall learning experience. Here are three methods that have become increasingly popular over the last decade:
Gamification: Karl Kapp defines gamification as "the concept of using game-based mechanics, aesthetics, and game thinking to engage people, motivate action, promote learning, and solve problems." (For more see Kapp's video: https://www.youtube.com/watch?v=BqyvUvxOx0M). Game outcomes are rarely certain, and they enable learners to engage in what educational gaming researchers call "productive failure." Games often involve competition and rewards (i.e., operant conditioning, positive reinforcement). These types of learning activities can occur in any learning environment (including a traditional classroom) and utilize a variety of technologies. Importantly, gamification doesn't require the use of console or computer video games—it also can involve board or card games, role-playing, and other playful tools or mechanics.


Simulation: Simulations are "instructional elements that help a learner explore, navigate, or obtain more information about system or environment that generally cannot be acquired from mere experimentation." Unlike games, which focus on "play," simulations focus on emulating real-world activities and processes as accurately as possible. While familiar examples might include military (e.g., flight) or medical (e.g., surgical) applications, simulations run the gamut from pen-and-paper case studies to large-scale virtual reality environments. Generally speaking, there are no predefined outcomes in a simulation—the problems encountered are open-ended and complex, allowing for multiple solutions based on learner experience and problem-solving capability.


Social collaborative learning: Social collaborative learning doesn't rely on a specific technology, often emerging through typical day-to-day activities. By interacting with our personal learning networks—colleagues, friends, family, individuals met through the Internet—we come to rely on one another's expertise to overcome the various challenges we're facing at work, school, and elsewhere. Social collaboration can be formally structured or informally emergent depending on the learner and learning community in question. When solicited by an individual, Jane Hart describes it as "continuous, on-demand, unstructured, and autonomous" as with a web-based discussion group or wiki. While it's possible and even advisable to include social collaborative learning technologies and platforms as part of formal training, it can be difficult—if not impossible—to force social interaction between individuals. The most effective approach tends to be the adoption of moderated communities that prove their value over time, so learners can see how participating (as writers, readers, or both) is time well spent.
Keep in mind that gamification, simulation, and social collaborative learning methods can require substantial planning and development to build and moderate. As with instructional technologies, be sure to consider which (if any) of these methods will make your training more effective and why it's the best choice.
We will continue to see new technologies, techniques, and instructional methods enter the modern workplace landscape. That's a good thing! We just need to actualize their potential by making educated design choices and wisely integrating approaches. Don't follow the latest trend for the sake of being trendy—do what's best for your learners!
This article originally appeared in Training Magazine Online on June 24, 2015 in the column "Virtually There."
Interested in learning more about designing for the virtual classroom and earning your Virtual Classroom Instructional Designer Badge? Check out our Virtual Classroom Design Mastery Series course by clicking on the graphic below.