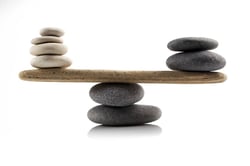 Virtually There Session Recap
Does your life ever feel insane? Between professional and personal responsibilities, most people get overwhelmed by trying to balance it all. And when your career focuses on ensuring others have the skills they need to effectively and efficiently do their jobs, the pressure builds.
So how do we balance it all in the face of constant chaos? Because the InSync team ponders this question regularly, we figured you likely do too. We invited expert Monique DeMonaco, the author of the best-selling book, Most People Don't Need a Therapist, They Need a Change, to share her best practices for creating a sane life in an insane world with Virtually There participants.
What did we learn? To unpack the suitcase and focus on self-awareness.
Unpacking the Suitcase
More than fifty percent of people are stressed or anxious in their daily lives. Coach Monique believes it's an epidemic that creates most of the insanity we experience. By understanding the root causes of that stress, we can better manage it. Over the course of her sixteen year career providing personal and leadership coaching, Monique has discovered four universal reasons why people struggle:
The belief that they are not enough. We all have moments where we doubt our abilities. In fact, Monique shared, "I work with people every day and I will conservatively say that 97% of the population struggles to know they are enough." But when our thoughts habitually convince us that we don't have what it takes, it limits our forward momentum.
The belief that what we want is not available to us. Even if others have reached the goals to which we aspire, many of us think we can't reach them. Often, we stop working toward desired milestones because we believe there is no way it will work out. This mentality aligns strongly with feeling like we aren't enough.
The fear of rejection. Did you know fearing rejection is rooted in the primal brain? Monique explained that "As a species, we are not that old, and it wasn't that long ago that the fear of being rejected meant that you were likely to perish. Being with the tribe meant safety, and being rejected was a dangerous situation." When we get left out or not chosen, our primal brain reacts, even when we logically know it's not personal.
The need of connection. The human brain craves connection. We seek out relationships and support and interactivity with others. Like the fear of rejection, this drive has deep roots in our evolutionary history. Problematically, though, our need to feel like part of the group can cause us to stay with groups we are not in alignment with.
If all of these underlying causes of stress resonate with you, that's okay! Monique shared:
"Everyone has a pie comprised of these four reasons, but every pie is unique. [For example], some people have a much stronger rejection issue, than believing they are not enough. What is universally true is that what you don't know that you don't know runs the show."
Strive for Self-Awareness
After unpacking the suitcase, Monique encourages us to gain self-awareness. Without understanding what makes us tick, our stressors can take over. Finding clarity about your stress helps make it less personal.
Try purposefully considering each of these four limiting beliefs. Do you have experiences in your life or career that align strongly with them? Those underlying beliefs can not only cause conflict, but also prevent us from achieving our goals.
Finally, remember that education can empower. Use your learning and development skills for personal growth. Self-assess to discover what causes you stress. Review the data. Create a personal learning plan for addressing your skills gaps or limiting beliefs. Curate expert resources for perpetual learning. And set goals for your personal professional development. It may surprise you how turning to tried-and-true processes can help you stay focused!
Missed Monique DeMonaco's Virtually There session? Watch the entire replay of, How to Create a Sane Life in an Insane World!