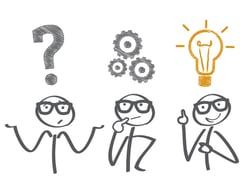 InSync Training President Jennifer Hofmann recently had the opportunity to join a panel of experts at eLearning Guild's Learning Solutions 2018 conference to discuss The Present and Future of Virtual Classroom Tools. Over the coming weeks, Getting InSync will feature highlights from this engaging, informative discussion.
A driving force behind our mission at InSync Training focuses on the idea that "If we do virtual classroom training well we can get, for many programs, an equivalent or even better experience in the virtual live online world as we can face-to-face." Achieving this goal, though, requires hard work and an innovative approach.
In our global, mobile, and social world, virtual classroom platforms like Adobe Connect and Webex Training Center present a unique opportunity: to bring learners together for engaging learning events, regardless of location or time zone. Dispersed teams can work side-by-side with teammates they've never met in-person. Learners can achieve true skill building from their desks.
These benefits also come with obstacles. What are the biggest challenges facing today's virtual classroom tools? Experts Bianca Woods, Sr. Manager of Programming for the eLearning Guild, Karen Hyder, Principal of Kaleidoscope Training and Consulting, Nina Talley Everflow, Senior Program Manager of EnCompass, and Jennifer Hofmann, President of InSync Training, weighed in during the recent panel presentation at Learning Solutions 2018.
Think Outside the Proverbial Box
One of the biggest challenges we face with virtual classroom tools is that we don't use them. I mean, there are amazing people in this space, and Jennifer regularly hears feedback like, "I've never seen hand-raise used that way before." Or, "I didn't know two people could write on two different white boards at the same time." I mean, the tools, the way they are now, if they don't change at all—they all could be finessed. But if they didn't change at all, you could be doing so much more than you're doing already. Ingenuity and creativity are the key here. Play around with breakout rooms and whiteboards and polls. Think of unexpected ways to use the tools to engage your audience.
Fear of Failure
Reminder: technology can be intimidating for people. This leads people to believe that this is a "poor man's" version of real training, because they can't actually get to the engaging activities. You need to design for those activities. They don't just happen organically. Remember to really plan ahead, sometimes plan a lot more than you would plan for a face-to-face session.
Critical Communication
Setting up for success is a real key part of planning, and often a stumbling block of virtual classroom training in general. Communicate with learners and stakeholders. Manage the expectations of what's actually going to be delivered. Set learners up for success by empowering them to use the tools and communicating how the technology works, so they can take advantage of the activities included in the sessions.
Pre-event communication about the program isn't enough. Clearly communicate during the session what tools they'll need to use. Walk them through, touching and feeling everything, before you start with content. Spending five minutes in advance of covering the content usually helps a lot.
As the experts point out, creativity, planning, and communication can make your live online learning events more successful.
Facing different challenges when introducing and using virtual classroom tools? Share your questions and advice in the comments below!