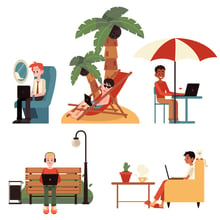 Did you know? InSync has operated an entirely virtual team since 2000. Over the last 20 years, technology platforms like Skype, Dropbox, WebEx, and Outlook have enabled us to communicate, collaborate, and constructively deliver our value proposition to our clients and learners.
In many ways, our organization implemented this employment model before it became commonplace. Today though, more companies include remote teams or allow for telework. Heck, even some federal government jobs here in the US allow team members to work virtually!
The workplace is a-changin' folks. But, the need for clear roles and responsibilities has not changed.
A recent HubSpot blog post shared five tips for becoming a successful remote worker. Over 450 people experienced in working virtually shared what contributes to their productivity and professionalism.
Our team loved this blog. It focused in on the things that make a difference in performance and the adjustments workers may need to make in their skills and expectations.
We offer our five perspective on HubSpot's five success factors:
Working Hours – Globalization means corporations operate 24/7, 365. Nights, weekends, and federal or religious holidays do not necessarily guarantee time off. Freelancers with fluid schedules and employees with set working hours share a need: to understand the parameters of their employment. Talk to HR and your manager to gain clarity on the organization's expectations. In some cases, you may have total flexibility and freedom. In others, you may need to follow strict guidelines just like if you worked in a traditional office. Either circumstance requires a proactive approach to planning your day and your work.


Technology – All teams, regardless of organization or location, depend upon technology. How would we function without email, for instance? Hubspot makes a sage point in urging remote workers to become familiar with the tools involved in your remote work and in your professional development as an employee. We completely agree that the "LMS is widely used by companies to onboard new hires, so it's likely the first tool you'll come across." In fact, we use our onboarding of new team members to introduce our approach to communication and collaboration. New hire training, especially for remote teams, should introduce not only the working culture, but the learning culture, as well.


Communication – Thanks to our Skype watercooler chats and our virtual accessibility, our team believes communication provides the foundation of our work process. HubSpot nails it when they offer that "communication…[is] the most essential skill aspiring remote workers should master." Learning the technology used by your team marks the first step in connecting with colleagues. But, virtual team communication involves nuance that builds on the basics of good communication (think: politeness, professionalism, and proofreading). When do you pick up the phone rather than sending an email? When will a Slack thread suffice as opposed to billable time on an all-hands meeting? Our different functional teams have different processes that work best for their work, but phone trees and Skype groups have saved the day during power outages, technical glitches, and client issues on a regular basis.


Focus – Think back to your school days. How did you best study? In a silent library cubicle? In your room at your desk with music playing? In the corner coffee shop with the noise of dozens of people coming and going every hour? Your answer speaks to your ideal working environment when telecommuting. Understanding the scenario that allows you to complete the task at hand matters tremendously, because, as HubSpot points out, "Ultimately, to find success as a remote employee, you need to practice focus." With no one watching your every move like in an open-concept group office, distractions can deteriorate your progress. Eliminate them as much as possible.


Time Management – Jennifer Hofmann, InSync's founder and president, believes the best virtual workers are both "independent and inter-dependent." These characteristics sound counter-intuitive, but they provide our secret weapon for success. We depend on InSyncers to communicate clearly and work together supportively. But, we also expect them to manage their schedules, tasks, and responsibilities without micromanagement. Per the HubSpot article, "It's vital you know when to work hard and when to take breaks throughout your at-home workday." Staying on task, on time, and on schedule requires self-awareness and self-motivation. Make lists, set alarms, keep a digital calendar. Follow whatever program helps you manage competing priorities.
Working on, managing, and leading virtual teams presents a unique set of challenges and require a specific set of skills. Kudos to HubSpot for highlighting the essentials, and to teams around the world changing the standards of work!