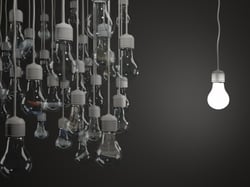 When it comes down to the nuts and bolts of instructional design, the methodology you use should not be very different when designing a stand-alone traditional classroom course, e-learning module, or a blended learning curriculum.
The foundational models are the same. We need to analyze needs, design a learning strategy, and develop and implement content. So the framework, or the model, is not different.
What is different is the flexibility that a blended learning model allows.
Flexibility in time. Content in a blended learning model does not need to be compressed into an artificial chunk of time like 30 minutes (in the case of e-learning, for example) or two days (in the case of a traditional workshop, for example.) We can time release the content when it is most appropriate for the learning that needs to be accomplished. In other words, the content is available at the moment of learning need. And that moment of need could be tomorrow, next week, or six months from now. Or, all of the above.


Flexibility in place. Traditional models of learning assumed that all learning is occurring in the same place. We have essentially created a prisoner situation where content is delivered to the place most convenient to the training organization, not the learners. With blended learning, we anticipate where the learner is when content is delivered, and design for that learning environment.


Flexibility in design options. Think about it -- stand-alone delivery models are confining. We are limited by the delivery tool. When designing blended learning, we evaluate each learning objective, and its component parts, and make informed decision about:
1. What exactly are we trying to teach?
2. How are we going to assess learner mastery?
3. What level of collaboration is required between learners in order to reach this level of mastery?
4. What is the most authentic way to deliver this content?
So how is blended learning design different than designing for stand-alone formats?
The foundation still needs to be stable, and plans still need to be detailed. The difference, indeed the power, of blended learning instructional design is in the implementation. We can be creative with how and when we design each piece of instruction; leaving us with perhaps a more impactful and useful learning design.