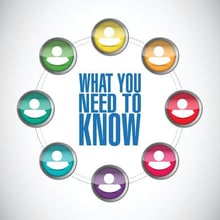 Learning professionals are an incredible group of people. Not only do we adapt to and overcome seemingly insurmountable challenges, like limited budgets and constraining timelines, but we freely share our wisdom with our learners and each other.
While Jennifer Hofmann was onsite at Training Magazine's Online Learning Conference, she asked a number of industry expert experts to teach her, and her YouTube audience, one thing. This blog post summarizes their collective wisdom.
You can watch the full videos on our YouTube Channel.
Key Takeaways
Each expert had really insightful advice for our learners, like:
"Slack is a tool not specific to learning and development, but with all of the features and functionality it offers, it's perfectly positioned to support L&D." – Myra Travin, Educational Futurist, UNIVentures, Inc. & Mark Sheppard, Senior Learning & Development Practitioner, Slack EduRooms
"One of the biggest mistakes I see in facilitation is apologizing in front of the crowd for what they might not even notice...stop now!" – Becky Pike Pluth, President, CEO, The Bob Pike Group
"As a leader of people, whether it's situational or part of your role, know that it's never about you. It's always about your people." – Dawn Mahoney, Principal, Learning in the White Space, LLC
"[To improve your learning materials] definitely use graphics. Visuals are scientifically proven to increase recognition, recollection, and adoption." – Mike Parkinson, Principal, Billion Dollar Graphics
Subscribe to our blog and our YouTube channel for future lessons from established talent development professionals and rising stars.
We want to learn from you! Comment below to find out how you can share a video teaching our audience one thing you believe is integral to modern workplace learning and performance.