Virtually There Session Recap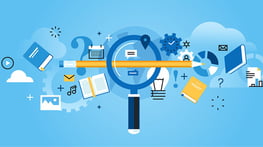 In response to changes happening in L&D during the COVID-19 pandemic, experts Jane Bozarth and Jennifer Hofmann joined forces for a special 90-minute Virtually There webinar on March 9, 2020. This blog post, the first in a comprehensive series, recaps some of the timely and helpful information shared during When Virtual Classrooms Become Virtually Required.
The virtual classroom may not be new, but currently the world is experiencing a crisis that's accelerating its necessity. With travel bans, new work-from-home arrangements creating unexpected virtual teams, and in-person meeting cancellations, virtual classroom platforms have become virtually required.
Trainers, instructional designers, and learning leaders of all specialties must now figure out how to successfully implement new or existing content in a radically different learning environment. So how can you limit learner confusion, maintain (or even improve) training quality, and continue to meet business need?
Keep Calm, and Turn the Virtual Classroom On
College campuses have shut down. Entire countries have closed their borders. Organizers of massively popular events like the SXSW conference have postponed or canceled gatherings. While these happenings feel unprecedented, past situations have resulted in a similar surge in the importance and popularity of virtual classroom or distance learning.
In fact, during the 20 year history of InSync Training, Jennifer notes that "There's been a lot of interruptions lately, and they're not new. We've had interruptions before – like 9/11 and the 2008 economic crash – that have forced changes to the way we deliver content…leaders asked, 'we've already begun investing in these technologies, how can we use them to be successful?'"
And while organizations had some success with transitioning training content in the face of fear and changing budgets, teams today have one critical advantage that did not exist previously: "We are comfortable with the toolset and we're using them to work every day. That's a big advantage, because we aren't starting from scratch."
We Have 3 Options
Organizations with upcoming in-person training events grapple with selecting the best of three options:
Postpone events

Cancel events/trainings altogether

Virtualize
Postponing in-person events makes sense in some cases. If they include non-mission critical information, the organization may not experience any negative consequences for moving events to later in the year. Canceling events, though, can result in programs that never quite come back.
The first step to transition to the virtual classroom is to make the decision to do so. If you or management don't immediately know which path to choose, Jennifer recommends a simple brainstorming option you can do online in a Google Doc, virtual classroom whiteboard, or in a conference room on a dry erase board:

Every team will have different concerns for each category, but common ones for each option include:
No Change

Impact on organization
Impact on individual attendees
Public relations nightmare
State-imposed consequences

Postpone

Effect of delay on effectiveness of meeting and collaboration
Scheduling challenges
Uncertainty (delay, delay again, etc)

Cancel

Impact on organization
Impact on individual attendees
Risk or loss
Setting a precedent

Virtualize
A word of caution when working through these decision criteria: people often fall into the trap of thinking that moving training online makes the experience less impactful than teaching face-to-face. In many cases, we can replicate the experience of bringing people together via the technology if we plan accordingly.
Laying the foundation for live online learning starts with making the decision and committing to it. Even if extenuating circumstances expedite the transition to blend with live online components, this exercise empowers learning teams to understand the advantages and preemptively address concerns.
Recommended Resources
What can you do next to learn more about quickly and effectively moving traditional classroom training to a new environment? The team recommends:
Subscribing to the blog here.

Benefit: In the coming weeks, we will publish additional blogs focused on this topic. By subscribing, you will receive email notifications when a post goes live.

Watching the session recording for When Virtual Classrooms Become Virtually Required here.

Benefit: Jane and Jennifer recorded their session using the on-demand viewing option, enabling you to share this information with your team, peers, or leaders to get everyone on the same page.

Registering for the upcoming free Virtually There webinar How to Go Live! here.

Benefit: Expert Karen Vieth will detail a process for moving existing training programs online, including how to determine if your content will work in this environment. All registrants will receive access to the recording, even if they can not attend live.