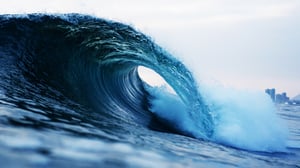 Virtually There Session Recap
In response to changes happening in L&D during the COVID-19 pandemic, experts Jane Bozarth and Jennifer Hofmann joined forces for a special 90-minute Virtually There webinar on March 9, 2020. This blog post, the second in a comprehensive series, recaps some of the timely and helpful information shared during When Virtual Classrooms Become Virtually Required.
It feels like organizations, work, and the world underwent an unexpected and radical evolution over the past few weeks. Offices closed to keep employees safe, teams now meet on Zoom or Google Hangouts, and training needs to move online.
And while committing to the virtual classroom marks the first step towards a full-blown training transition, the process does not end there. Even when facing tremendous pressure to succeed in a new format, L&D practitioners have to believe in – and subsequently promote – the change.
What Are You Worried About?
Demonstrating enthusiasm for virtual learning may not come naturally when you feel stressed about having to quickly shift existing programs or rearrange established plans. But thinking through your concerns, and realizing you aren't alone in them, helps put you in a more pragmatic mindset.
Common answers to the question, "If you have a short turnaround time for virtual learning, what are you worried about?" include:
Training quality

Preparation time (or lack thereof)

Bandwidth challenges and audio issues

Compliance

Platform functionality

Translating content

Not having enough producers
These concerns are valid. BUT you can manage them through a combination of logistical, technical, and educational solutions. Your team can upskill. You can flip content for a new environment. You can preventatively troubleshoot platform challenges and guide learners through them.
Establish a New Perspective
Learning professionals need to face the required shift to virtual learning, at least pretending it's a great idea. Jennifer clarifies:
"I say, 'pretending' because at least some people will be upset and will not feel good about this. But we can't be apologetic. We have to look at this as an opportunity. If we are forcing people to learn online when they wouldn't have before, they're probably working remotely. We are also teaching them those skills for working in a new way."
Some ways to positively frame this situation include:
We have the session recordings. When used thoughtfully, recordings offer the opportunity for reinforcement and review. If there's information a learner would like to revisit, a trusted source is quickly and easily available.
Platform features allow for in-class review and content connections. Facilitators in the virtual classroom can literally "scroll up" in the chat or flip back through the slide deck to draw connections between earlier commentary and new content. Learners can literally see how concepts build on each other with the right debriefing and facilitation techniques.
Virtual classroom platforms allow for multi-faceted contribution. Learners in the live online environment an contribute verbally, through the chat feature, and in small group activities, allowing for even reluctant or shy learners to participate.
Market the Change
Having thought through your concerns and identifying the fundamental value of virtual training, it's time to get the learners onboard. As Jennifer says, "Training is marketing" and your virtual learning promotional plan should:
Address concerns about technology. Learners likely have worries about functionality that match your initial hesitation. Cut them off at the pass! Acknowledge their concerns ahead of time and provide guidance before they become roadblocks to virtual session success.
Emphasize the benefits. Flexibility! Innovation! Modern skill building! Share the positives a virtual format provides, including the opportunities for practice and collaboration with learners before they log-in for the first event.
Provide additional learner / participant support. Producers can help ease in-the-moment frustrations during live online events. They free up the facilitator to focus on engaging delivery, offer a second voice, serve as learner advocate, and can troubleshoot technical difficulties. Have them host a pre-course practice call to help learners set up their technology and become familiar with the tools. This will improve learner comfort and buy-in.
Develop a robust communication plan for before, during, and after the session to collect feedback on how to make the experience better. Clear and open communication about program objectives, expectations, and process set learners up for success. Asking for their feedback after programs enables the learning function to make adjustments and improve future offerings. When learners provide suggestions and they're taken seriously, it reinforces the organization's investment in this design option.
One Last Bit of Advice
The virtual classroom allows for organizations to build bridges among employees in times when it feels like barriers prevent success and connection. Embrace that opportunity! And when you break the news to learners, start the email announcement with "Good news! We are moving this training online." Because, really, it is good news! You and your team identified a way to get critical content to learners when it would've been easy to abandon learning altogether.