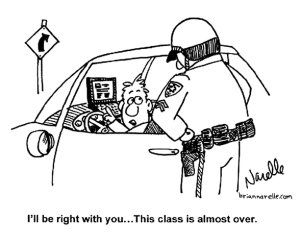 When we are talking about mobile learning, mLearning, or BYOD, what usually comes to mind is self-paced eLearning. Just in time content makes sense on mobile devices like tablets and smart phones. As learners become accustomed this, they naturally expect live virtual learning can occur the same way.
Let's face it – today's global, on-the-go workforce doesn't stand still. We aren't in one place long enough to commit to multi-day, all-day programs. Often, we don't even know where we might be working when we commit to a class. Learners in these situations rely on mobile devices to access email, attend meetings, and access content. It is natural for them to assume they can also learn on these devices as well.
And who can blame them? In order for our workforce to be mobile, their entire toolset needs to be mobile. If learning doesn't fit into their workflow then, well, they won't try to fit learning into their workflow. They've got their devices (iPads, tablets, smartphones), and BYOD is what they want. And virtual classroom providers make it easy by providing 'apps' that work on mobile devices.
Some people are road warriors – and mobile is the only option for them. But they aren't the only people logging in from their devices. Some people chose mobile options because they are trying to get away from the distractions of their regular workplace. Some are trying to fit in just one session while on vacation!
Great! So What's The Problem?
When we design for the virtual classroom, we develop exercises that maximize engagement. Interaction and collaboration are key. The problem is, the mobile versions of most virtual classrooms aren't fully functional, and learners can't easily participate. Viewing slides and listening to conversations is easy, but exercises that require participants to contribute to whiteboards or collaborate in breakout rooms are much more difficult – depending on the software and the device, perhaps even impossible.
The problem? Different learners have very different experiences, and don't reach the same level of mastery. Practice time is practically eliminated, and post-lesson evaluations are less than optimal.
For some programs, we can resolve this problem by only allowing learners with laptops or desktop computers to participate. But sometimes, this isn't always a reasonable option.
The answer? Designers of virtual training need to know at the onset if participants will be participating via mobile devices, and design exercises that enable all of the learners to practice and master content. And facilitators need to apply special techniques to engage learners no matter where, or how, they are participating.