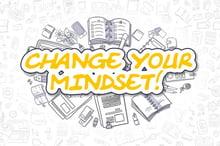 BYTE Session Recap
Learning departments often support organizational change management initiatives by designing and delivering associated training programs. It's one of the varied, but critical, responsibilities we have. Unfortunately, navigating personal and professional change requires a certain set of skills, whose development is often overlooked.
Guest BYTE speaker Laura Goodrich, a change management expert, recently shared the secret to creating a mindset for adapting to our ever-evolving world. This blog explores the urgency associated with change today, the drivers behind it, and the underlying connection to learning.
For more information about the elements of a change-ready mindset, and how organizations can gain buy-in for new technologies, programs, and models, click here to watch Laura's full BYTE recording.
The Urgency of Change
Understanding change in organizations and for individuals requires us to first understand business today. Laura used Netflix as an example of the volatility of the marketplace.
When Netflix first arrived on the scene, Laura shared, big players in home video assumed it wasn't a threat to the establishment. Why? The current model worked for consumers. In reality, though, Netflix changed the game, and it caught its competitors by surprise. "Netflix," Laura said, "not only disrupted organizations, but it changed behavior. Think about how we view television series today. I'll bet most of us have binged before, we grow frustrated about waiting for programming, and we want choices in how we view shows."
Consumer behavior changes move into and disrupt organizations. Laura defines the process as "Cross Sector Competition" which occurs when "a company brings something to the marketplace, it solves a problem that people had, or solves problems of an existing process that we heretofore willingly accepted."
Fifty six percent of CEOs recognize the rise of Cross Sector Competition. The effects of such a process cascade down through the business and create the need to develop a mindset for change.
Change Drivers
Laura talked through the fact that business and work today feel the impact of four specific change drivers:
Emerging technologies
Global connectedness
Demographic shifts
Changing consumer and employee behavior and expectations
"Demographers, economists, and futurists alike all say that any of these drivers alone, independent of the others, could drive very specific change," Laura highlighted. Extrapolating out, she asserted, "Collision has created a compressed timeline where new products and innovation can move into the marketplace more rapidly than ever before."
As business partners and practitioners, learning professionals need to have an awareness of these four drivers in order to mitigate and manage the impact they have on the most important and dynamic element of any organization: the people.
Making the Connection to Learning
As training professionals, we often have to adapt our designs and facilitation approaches to the needs of the business. Understanding the forces impacting the organizations for which we work helps us to better prepare for and potentially adapt to any top-down directives.
Interestingly, but perhaps unsurprisingly, the drivers of economic change mirror those occurring in our classrooms. InSync Training believes learning environments are more global, mobile, and social than those we've worked in in the past. This evolution stems from emerging educational technologies, and a changing learner base. Companies, and by extension classrooms, include connected, diverse learners from all over the globe. Laura's BYTE created the connection for us that these learners are a product of, and are reacting to, the larger-scale changes happening in the economy.
As learning and development practitioners, understanding the learners we serve, and the influences upon them, allows us do our jobs more effectively and efficiently.
To discover how to build a mindset for change, watch Laura's BYTE session, Creating a Mindset for Change.
Be sure to follow us (@InSyncTraining) and Laura Goodrich (@LauraGoodrich) on Twitter for additional resources and recommendations.