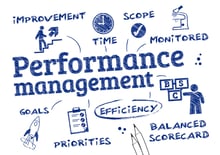 In the digital workplace, everything is monitored and recorded. It's far easier to attribute the impact of an individual employee to the overall success of a company. This means that people analytics plays a huge role in how leaders develop their business strategy.
Performance management, in particular, seeks to optimize a workforce by cultivating talent, enhancing performance and productivity, and driving continued learning. Today's workforce seeks to develop authentic, meaningful relationships between employees and managers, as well as opportunities for professional development and advancement. Performance management also influences learning and development (L&D).
Benefits of Performance Management
Institute goal-setting with employees. Goals are the driving force for employee progression. By setting goals, managers and employees are engaged in the process, resulting in more energy spent on sustaining positive outcomes.
Achieve accountability against goals and objectives. Delineating roles and responsibilities helps keep managers and employees on the same page, working towards personal and professional objectives.
Provide consistent documentation for managers and employees. A library of current and past performance information provides an overall picture of how talent profiles evolve over time. This is especially useful when evaluating the impact of an L&D program.
Nurture a high-performance culture. In many ways, a high-performing culture and a learning culture are one and the same.
According to data from Deloitte, millennials covet training and development over any other job benefit. Most surveyed believed that they should be given feedback weekly and see career progression annually. Performance management nurtures a learning culture in a variety of ways.
Bilateral Communication
Performance reviews are critical to employee progression. There has been a proliferation of digital collaboration tools and employee evaluation methodologies in recent years. These solutions spark cross-functional communication, breaking down reinforced workplace norms, learned behaviors, and knowledge silos.
Better project management leads to better performance management, as managers can more efficiently track individual employee performance against shared objectives. This enables managers to communicate consistently with their teams about performance, and identify areas for learning and growth.
Improved Understanding of Data
Modern HR professionals are quickly developing core competencies in performance analytics and progress tracking. Effective performance management requires a keen understanding of people metrics. Modern tools like HCM cloud software systems help HR managers move the needle on their performance and learning objectives by providing a real-time snapshot into a company's talent profile.
This translates into a more nuanced idea of how to make data work for an organization when it comes to an L&D strategy. It's not enough to simply collect the data using a software tool. In order to enact lasting organizational progress, stakeholders have to be able to interpret the data, make their own inferences, and apply those inferences to develop smarter learning programs.
The Distinction Between Skills and Behavior
What's the difference between a simple skill versus a behavior? For one, a skill denotes one specific trait or knowledge set. A behavior encompasses a diverse, nuanced skillset or series of traits that can be taught but are enhanced through an employee's environment. It's more crucial than ever for companies to focus on promoting learning behaviors through their L&D programs and performance management strategies.
The Society for Human Resource Management interviewed Edward D. Hess, professor of business administration at the University of Virginia, and co-author of Humility Is the New Smart: Rethinking Human Excellence in the Smart Machine Age. "A learning culture should be designed to enable and promote learning behaviors," Hess says. "The first thing to do is define the behaviors you want and the behaviors you don't want and design [your culture] to produce those results."
Performance management helps identify desired learning behaviors in an organization. From there, stakeholders can structure their L&D initiatives to address skills gaps and build leadership skills — anything a company needs in order to develop top-tier talent that will drive business outcomes.
Takeaways
Hess believes that in the future, HR departments will shift from being human resource-focused to being concerned with human development. "Over the next 10 years, people will take on only the jobs that technology can't do well — in other words, those that involve higher-order critical, creative and innovative thinking and high emotional and social intelligence." In that vision of the future, Hess and other HR technologists believe that the central priority will be on fostering lifelong learning among a company's talent.
Learning is a lifelong process. It's about more than just taking a class or picking up a new skill. In the workplace, learning involves taking full advantage of professional development and training opportunities in order to become the most well-rounded professionals possible. In high-performing workplace cultures, performance management helps foster a desire for increased professional growth. It also provides the digital tools necessary to lay the groundwork for strategic decision-making when it comes to talent acquisition and retention.