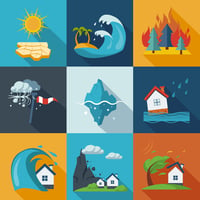 At InSync, we often talk about mitigating virtual classroom disasters with preparation and planning. With a solid plan, we can avoid most "virtual training emergencies."
Hurricane Florence reminds us that there are indeed true emergencies that impact our families, our safety, and our livelihoods.
Teamwork is more important than ever in the wake of a natural disaster. With so many of our team members and our client facilitators working from remote locations, it's critical to identify who might be potentially in the storm's path, and find ways to proactively support them so they can focus on what is truly important.