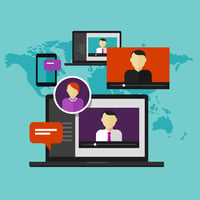 This post is part of an occasional series "Advice from the Virtual Trenches" where we share real lessons learned when virtual and blended learning didn't go as planned.
Virtual classrooms have been available to training organizations for over 20 years. As someone who has specialized in this domain during that entire time, I tend to forget that not every organization has adopted virtual training as an acceptable alternative to more traditional approaches.
I was definitely reminded of this recently when we worked with a global organization to implement their first substantive virtual training project.