InSync Training ranks 10 in New Hampshire, 85 in Education, 142 in Boston and 4890 Overall on the Inc. magazine exclusive list of the fastest-growing private companies in America.
Inc. magazine today ranked the Virtual Training Pioneer, InSync Training,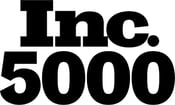 No. 10 in New Hampshire, No. 85 in Education, No. 142 in Boston, and No. 4890 overall on the most prestigious ranking of the nation's fastest-growing private companies. This is the fifth year that InSync Training has received this distinction from Inc. magazine.
"It is an honor to again be recognized by Inc. for the innovations and accomplishments InSync has achieved as a leader in the virtual training industry. The last several years have been astounding, with the global pandemic emphasizing the need for quality virtual solutions for the global hybrid workforce," said Jennifer Hofmann, InSync founder and president. "Our mission is to bring world-class virtual training certifications and services to organizations around the globe – And our exceptional global designers, producers and facilitators serve as the foundation of our continued growth and exceptional service to our partners and learners. Our virtual team is our foundation. This award represents their hard work and dedication."
Results of the Inc. 5000, including company profiles that can be sorted by industry, region, and other criteria, can be found at: https://www.inc.com/inc5000.
About InSync Training
Founded in 2000, InSync has 20+ years' experience supporting a variety of enterprise-wide virtual training programs for Fortune 50, 100 and 500 clients and have certified over 25,000 L&D professionals with its best-of-class approach. With a global team of 140 expert Instructional designers, researchers, and professional facilitators support clients' corporate training needs, including programmatic management and logistical support, traditional "train-the-trainer" services, blended learning, instructional design/development services, and virtual facilitation/production services.
InSync Training is an IACET Accredited Provider and regularly supports 6000+ hours of live, online, virtual, blended, and remote instruction per month in Zoom, MS Teams, Webex, Adobe Connect, Kaltura, and others.
Visit InSync Training for more on InSync Training's industry-recognized public certifications or corporate service solutions.
Read the full press release on PRWeb.