Imagine that you are getting ready to start a new job on Monday.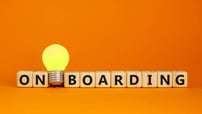 You're thinking about your new role, the types of challenges it will bring, and wondering how welcoming your colleagues will be. Your phone signals that a new message has arrived, and you click on it, only to discover a personalized message from your new supervisor with a few welcoming questions. Your slight hesitation is now replaced with excited anticipation for your start date.
Onboarding software is responsible for creating seamless, automated "preboarding" communication that helps a new hire begin to adjust to the culture and climate of their new workplace. As a manager, ask yourself how using onboarding software can help new employees get up to speed faster so that they adapt quicker and move to productivity sooner.
Let's assume that strong virtual onboarding is important to your organization. If this is true, then you and your team know how much time an effective onboarding schedule can take to put together, how easy it is to make mistakes with manually created schedules, and how hard it is to design multiple schedules at a time. In fact, 58 percent of organizations report that their employee onboarding is focused on processes and paperwork, according to The Human Capital Institute. Onboarding software is a great solution! So, what should you consider?
Benefits of using onboarding software include automating the process, keep the people touch where it's most important, and helping to scale. Let's talk each of these through.
Automation
If you're wondering how the new hire got that text message from their manager, onboarding software is the answer. This type of technology creates simplified workflows that prompt managers and new hires alike to communicate and complete administrative tasks; let's call this a "blueprint." Reminders are sent automatically when tasks are not completed, including all that HR and compliance paperwork. In addition, comprehensive checklists are provided so that self-paced learning can replace dozens of face-to-face meetings. Technology automation helps make sure nothing important slips through the cracks and allows the manager to focus on the areas of onboarding that need a human touch, while maximizing a blended learning approach to onboarding.
Keep the People Touch
Automation will simplify the process and cut out a significant amount of time in preparing onboarding schedules, so how can you maximize the time you've gotten back? Social interaction is key to new hire integration, and technology can help maximize the impact that face-to-face, synchronous meetings provide. This level of engagement creates an important sense of belonging for the new hire and allows them to interact with other team members.
Simplify and SCALE!
Onboarding technology means that a scheduling task that used to take multiple steps now might take only one. For example, think about adding new hire meetings to the calendar. This is labor-intensive and invites mistakes. Onboarding software programs provide simple calendar integration so that time and opportunity for mistakes is eliminated. This is only one example of how the software can simplify the process. Many of the onboarding software options also provide a learning management system (LMS) that helps connect those early onboarding tasks to ongoing employee learning and development. Once an initial blueprint is designed, let the software do the work while you and your team focus on attracting and retaining more talent for your growing organization.
There are many onboarding tools available. Here are a few options to get you started on your journey toward finding the best onboarding technology platform for your needs: Bamboo HR, Enboarder, Gusto and Sage.
Your organization can start building a strong onboarding strategy to retain talent, with our Trends in Virtual Training - Expert Seminar Series workshop - Getting Virtual Onboarding Right - Maximizing New Hire Engagement in the Hybrid Workplace.
And there are 12 more trending workshop topics for you to explore!
Purchase 5 workshops and the 6th workshop is free. Click on the image below to learn more.